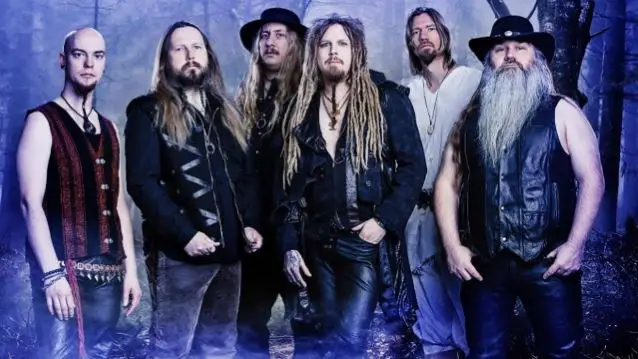 The Folk Metal Superstars recently announced a European tour with ARKONA, HEIDEVOLK and TROLLFEST for early 2018 (dates listed below); this trek will once again bring the band's ravenous energy to European fans. For the first time ever, the Finns have captured and immortalised this aforementioned live power – on their first ever live Blu-ray/DVD+2CD package titled "Live at Masters of Rock" (due on August 25th, 2017 through Nuclear Blast). After hearing its title, it's easy to conclude that it was recorded at the identically named festival in Vizovice, Czech Republic.
But there's even more to be excited about, this release doesn't just include KORPIKLAANI's show from 2016, it even has a second full show from 2014 as bonus feature. The 2016 concert features guest appearances from Tero Hyväluoma (additional fiddler) as well as Toni Perttula (additional accordion player), Sami's identical twin brother. Mixing and mastering of "Live at Masters of Rock" were handled by front man Jonne Järvelä himself.
Jonne comments: "This our first ever DVD release, which we are quite proud of. It has no backing tracks, no choirs, no samples, all the mistakes are included. It is just us, KORPIKLAANI, pure live rock 'n' roll."
He also adds: "I spent a lot of time in the mastering with Svante Forsbäck who recently did the RAMMSTEIN mastering and we worked hard to get the right ambience and crowd sound. So when you turn it up loud, it feels like you are right there in the middle"
Sami adds: "For us, our bigger shows means more folk musicians, which are much cheaper than pyro, for example my brother agreed to this show for a few beers and he doesn't drink much!"
As a first taster, a live clip of "Pilli on pajusta tehty" has been launched. You can check it out below.
"Live at Masters of Rock"  Track Listing:
Blu-ray/DVD
2016:
01. Intro (Tanhuvaara)
02. A Man With A Plan
03. Journey Man
04. Pilli on pajusta tehty
05. Erämaan ärjyt
06. Lempo
07. Sahti
08. Ruumiinmultaa
09. Vaarinpolkka
10. Viima
11. Metsämies
12. Kultanainen
13. Kipumylly
14. Ämmänhauta
15. Rauta
16. Kylästä keväinen kehto
17. Wooden Pints
18. Vodka
19. Beer Beer
2014:
01. Intro (Tanhuvaara)
02. Tuonelan tuvilla
03. Ruumiinmultaa
04. Metsämies
05. Kantaiso
06. Juodaan viinaa
07. Petoeläimen kuola
08. Sumussa hämärän aamun
09. Vaarinpolkka
10. Kultanainen
11. Uniaika
12. Louhen yhdeksäs poika
13. Uni
14. Vodka
15. Ievan polkka
16. Rauta
17. Wooden Pints
18. Pellonpekko
19. Happy Little Boozer
CD1 (2016)
01. Intro (Tanhuvaara)
02. A Man With A Plan
03. Journey Man
04. Pilli on pajusta tehty
05. Erämaan ärjyt
06. Lempo
07. Sahti
08. Ruumiinmultaa
09. Vaarinpolkka
10. Viima
11. Metsämies
12. Kultanainen
13. Kipumylly
14. Ämmänhauta
15. Rauta
16. Kylästä keväinen kehto
17. Wooden Pints
18. Vodka
19. Beer Beer
CD2 (2014)
01. Intro (Tanhuvaara)
02. Tuonelan tuvilla
03. Ruumiinmultaa
04. Metsämies
05. Kantaiso
06. Juodaan viinaa
07. Petoeläimen kuola
08. Sumussa hämärän aamun
09. Vaarinpolkka
10. Kultanainen
11. Uniaika
12. Louhen yhdeksäs poika
13. Uni
14. Vodka
15. Ievan polkka
16. Rauta
17. Wooden Pints
18. Pellonpekko
19. Happy Little Boozer