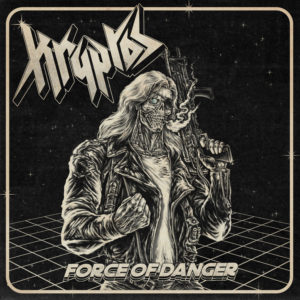 To heavy metallers the 1980s were the golden era of Metal music. After that no good music at all was done. No good bands were created and the rest of the music was only indistinctable noise. I tended to agree with them a few years ago. Now I changed my mind. Of course, the Metal music done in that time was wonderful and we metallers still live the repercussions of it musicwise and socially above other things but to say that there isn't anything better afterwards is a little naive to say the least. Nostalgia is good but there is no way of living in it.
Now we've got Kryptos' following effort to their 2019's "Afterburner" of which "Force of Danger" doesn't stick an inch. The word following has never sounded so perfect and fit to an album. "Force of Danger" works as if a time machine were possible. It sounds as if it were recorded in the good old 1980s. The best reference ever. The will to power Kryptos have to Heavy Metal is really something to be praised with all our hearts.
As I said before in 2019, Kryptos are commited to the Teotonic Metal. Most of the tracks have a strong taste of Accept, Tyrant, and others. If you have any doubt listen to the guitar riffing of "Omega Point" or the tittle track "Force of Danger" and tell have the courage to say to me that it doesn't remind you Accept. Combining sharp guitars with flaming riffing and interventions with an acid vocal, the band isn't a mere tribute, Kryptos are slowly digging for them a place under the full moon. Well, it's been 23 years that the band was founded. I guess it's about time. The melody and the power the band apply to their songs are one of the things that makes them stand out from the crowd.
I don't about you my dear child of the night, but I get excited about bands like Kryptos because they mean the real deal. They mean that when you put all your heart in something you believe the outcome is great. Some may say it's just more of the same, but I can't agree. It's that living power that makes Metal music so alive and give it the strength needed to some more fifty years the least. Each one of the eight tracks of "Force of Danger" make me believe strongly and defend the Metal faith. If you agree with me give Kryptos "Force of Danger" a chance. You won't be disappointed.
Kryptos "Force of Danger" will be released on October 01st via AFM Records.
Track Listing:
Raging Steel
Hot Wired
Dawnbreakers
Thunderchild
Nighthawk
Omega Point
Force of Danger
Shadowmancer
Watch "Force of Danger" official video here: