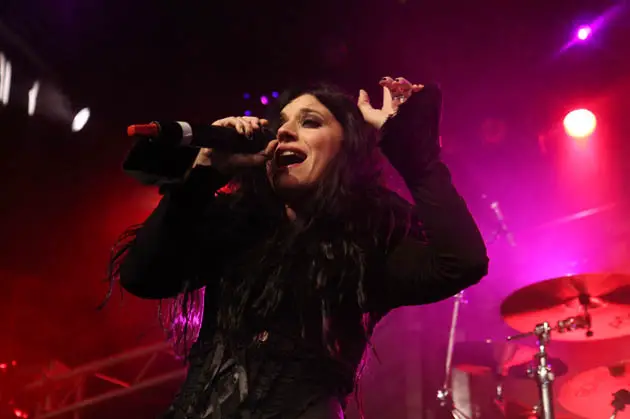 There is an old sanatorium up in the hills of Northern Italy. An old, abandoned, and decayed fortress whose corridors are filled with the ghosts of a thousand tortured minds and souls. A place where every wall still bares the scars of countless damaged lives…
Welcome to the LACUNA COIL Sanatorium!
With their 8th studio album the Italian Gothfathers decided it was time to up the ante, switch into a heavy mode and finally take full creative control over every aspect of "Delirium" that is set for a worldwide release on May 27th, 2016.
The track listing of "Delirium" reads as follows:
The House Of Shame
Broken Things
Delirium
Blood, Tears, Dust
Downfall
Take Me Home
You Love Me 'Cause I Hate You
Ghost In The Mist
My Demons
Claustrophobia
Ultima Ratio
After being heavily involved with previous productions Marco "Maki" Coti-Zelati took over the leading role as producer together with his fellow bandmates. 2016 shows LACUNA COIL including US drummer Ryan Blake Folden as a tight unit that realized their collective vision for "Delirium" at BRX Studio in their native Milan between December 2015 and February 2016. Yet again they were working with Marco Barusso (engineer, mix) who had not only worked with LACUNA COIL in the past on several albums such as "Dark Adrenaline" and "Karmacode", but also on Italian high profile artists like Eros Ramazzotti or Laura Pausini. Marco "Maki" Coti-Zelati also created the artwork for "Delirium" which is based on an atmospheric session captured by Italian photographer Alessandro Olgiati.
LACUNA COIL live:
20.04.16 (PHL) Quezon City – Amaranth Stadium (Pulp Summer Slam Festival)
14.05.16 (USA) Cherokee NC – Cherokee Event Center (w/ Halestorm, Cilver)
15.05.16 (USA) Richmond VA – The National (w/ Halestorm, Cilver)
17.05.16 (USA) Davenport IA – Adler Theater (w/ Halestorm, Cilver)
More dates will be announced shortly!