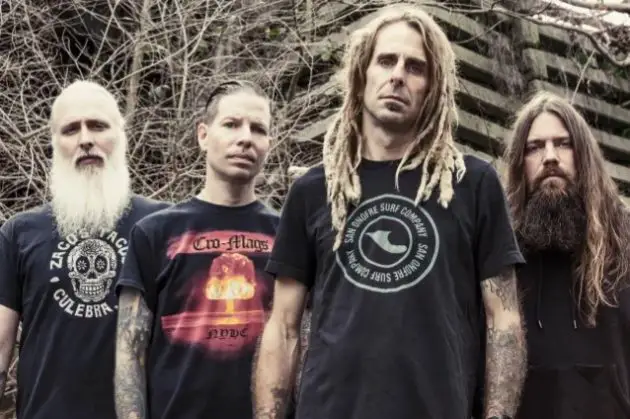 LAMB OF GOD has announced their new, self-titled album due out on May 8 via Epic Records in the U.S. and Nuclear Blast Records in Europe. This will mark band's first album with Art Cruz, who officially joined the band last July as the replacement for the group's founding drummer, Chris Adler.
Lamb Of God track listing:
01. Memento Mori
02. Checkmate
03. Gears
04. Reality Bath
05. New Colossal Hate
06. Resurrection Man
07. Poison Dream
08. Routes
09. Bloodshot Eyes
10. On The Hook
Guitarist Mark Morton spoke about LAMB OF GOD's upcoming album during January 30 appearance on SiriusXM's "Trunk Nation."
"We've got new music coming soon. And I really, really couldn't be more excited about it," he said. "There's a whole fresh new energy in the band. It's our first recordings with Art. Art's been playing drums with us now for a couple of years, but these are our first songs that we've written and recorded with him there. And it's just a thrill to see these things come to life.
"And I couldn't be happier with how the record is turning out, and I'm excited for the world to hear that. There's gonna be a lot of touring around that, so we're gonna be super busy on the road."