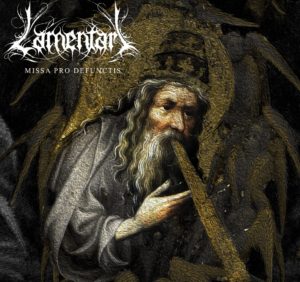 Sometimes the title plays you. Sometimes it's the opening track that plays you. It's when you listen to the first notes of the song and it plays you as well. How about the first and opening track goes on and you still with a question mark face, I mean, you are sure that this is a Doom Metal album. Well, name, CD cover, opening track it all checks out.  Suddenly like hell a blast of the sounds of machine guns done by an insane and talented drumming – the insane are always talented, aren't they? And the lunatic train is on track. I mean, it is the good old Black Metal like hell with all the features of grief and pain added the violance and agression old school Black metal has to offer the fan. "Dies Irae" makes the big entrance and shows the fan it is possible to be to date and still praise the old habits.
The way Lamentari mix the old school with the modern is surprising. It brings back the thrills of listening to songs that may surprise you because you don't really know what's goning to happen. There is also a certain mood of vaudeville, a theatrical mood in the album that fits perfectly with the music the band arises. The combination classical tunes with insane and dazzling guitars take over the scene and it gets nasty. A sonorous hurricane of blazing and blasting Black Metal mass combined with the moody classical music. That's what "Missa Pro Defunctis" is. A sick combination of the good old punchy Black Metal with the theatrical and vaudevillish modern features. Sick. So sick.
Only four tracks and still the ability of blowing my mind. Less than thirty minutes, but overwhelming thirty minutes. A hell of an album that will please the traditional lover fan and the mst modern fan of Black Metal. A combination that sounds explosive and promissing, if you ask me. It's not usual due to the huge load of efforts I have to cover, but I heard "Missa Pro Defunctis" more than the usual two times. It is great when pleasure meets work. For the work's sake it's not rare, in fact, pretty common. This is a living example.
Lamentari "Missa Pro Defunctis" will be released on March 25th.
Track Listing:
Introitos
Dies Irae
Lacrimosa
Confutatis
Watch "Dies Irae" official music video here: