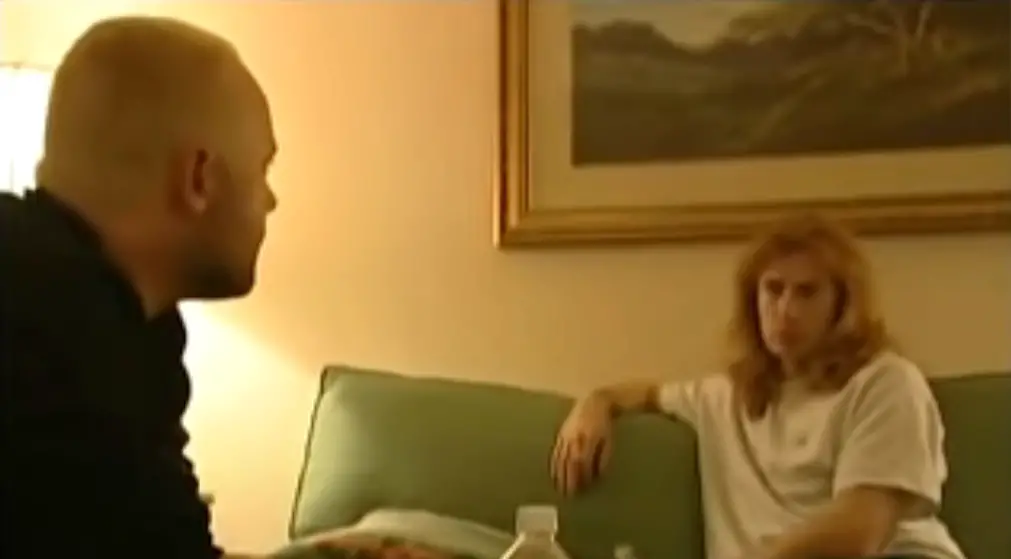 METALLICA's "performance coach" Phil Towle, a former psychotherapist who was brought in January 2001 to help James Hetfield, Kirk Hammett and Lars Ulrich repair their relationship with Jason Newsted, recently spoke to the METALLICA-centric podcast "…And Podcast For All!"
In an interview, Towle was asked about one of the most memorable scenes in the METALLICA documentary "Some Kind Of Monster" in which Ulrich is confronted by former METALLICA guitarist Dave Mustaine about being kicked out of the band in 1983 for being a belligerent drunk. The meeting between Ulrich and  Mustaine took place on September 13, 2001, at the Ritz-Carlton hotel in San Francisco, California.
Towle said about the meeting: "The Mustaine session itself was pivotal for Lars and Dave, but it wasn't complete for Dave. I mean, obviously. It was the first chance that Mustaine had had to be able to purge. And I think Lars did a great job of opening up and doing his best to take it on without trying to change Dave's mind.
"He couldn't really answer the soulful part of Dave's pain; he couldn't heal that pain," Towle continued. "Dave has to heal that pain in response to what was going on. But the conversation was an opener; it was a great opener for them to be able to… It was a way for each of them to communicate what was in their heart and on their minds. And like so many parts of life, it had its own standalone features, but it wasn't standalone.
It was an opportunity for both of them to reconnect in healthy way," he added. "Look what happened — they brought Mustaine back when they were inducted into the [Rock And Roll] Hall Of Fame, right?" he said, apparently referring to METALLICA's reunion with Mustaine at the 30th-anniversary concerts in San Francisco in 2011. 'So, that led to that; I'm sure that was part of it."
In a 2004 interview with MTV News, Mustaine said that he didn't approve the five-minute clip to be included in the film, because he felt the clip didn't represent the full extent of what happened in the meeting.
"If you watch the stuff linearly, it's totally different," he said. "They filmed three hours of us together and they only used about five minutes. Why didn't they use the part where Lars gets up and walks to the bathroom crying because I let him have it because of the sh*t that happened?"