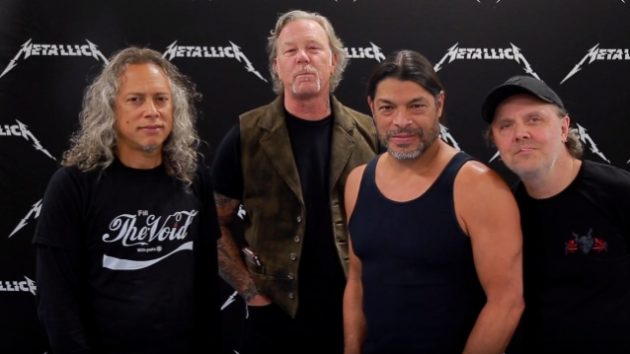 In a recent video chat with Rob Dietrich, the new master distiller of METALLICA's Blackened American Whiskey, drummer Lars Ulrich talked about the band's upcoming 40th anniversary.
"It always feels like we're just getting started," Lars stated (watch interview below). "Forty f*cking years! Yeah, it's crazy. We're in 2020 here, so I guess next year is the 40th anniversary. All those clichés about 'age is just a state of mind,' but there is definitely a part of me that still feels like all the best years are ahead of us. I guess that's kind of how I have always thought.
"I can't spend a lot of time in the past, and I can't spend a lot of time going down memory lanes," he continued. "Obviously, when people like you and I are talking or if I'm doing interviews or whatever, I can hang in the past, but when I'm not doing that, I spend most of my time in the future — [focusing on] what's ahead.
"People go, 'What's your favorite METALLICA record?' It's, like, you know what? The next one is my favorite METALLICA record. So I always think ahead. But, listen, it's been an awesome ride so far. Forty years next year, and I'm just thankful for James [Hetfield], Kirk [Hammett] and Rob [Trujillo] and thankful for this incredible ride.
"And it feels like, I guess, in some peculiar way, that we're getting closer and closer," Lars added. "I guess social media, the way that we connect with the fans nowadays, still touring all over the world, the spirit and the way we connect with the fans just feels more and more pure, more and more transparent and more and more honest. We just throw it all out there.
"I love social media. I love the fact that you and I can sit here and do this. And to me, what rock and roll is is really just about connecting to other people.
"When I think of the last three or four years and the Hardwired[… To Self-Destruct] ride, it's amazing how it feels like it's getting more and more intense and more and more intimate — I guess, always working on trying to break down that barrier between the band and the fans and trying to make us all one.
"The indoor stage of the last couple of years, playing in the round, with the snakepit, and the shows we've played in the last few years outdoors, it just feels like we're connecting at a more intimate level than we ever have before. So, like I said, hopefully we're just getting started."
METALLICA's latest album, was released as a double album in November, 2016. It is their first studio album in eight years following 2008's Death Magnetic, marking the longest gap between two studio albums in the band's career.