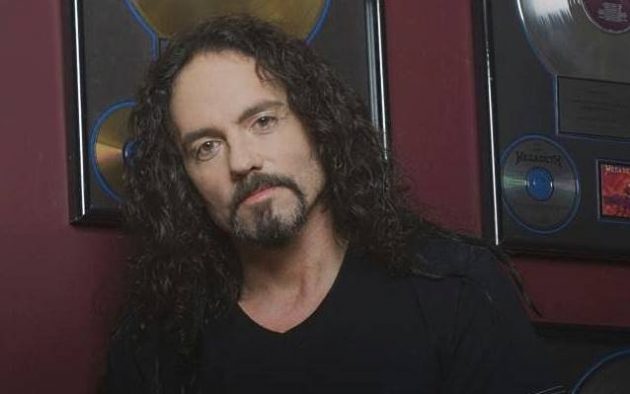 On Sunday, April 22nd, late MEGADETH drummer Nick Menza will be celebrated by his family, friends and colleagues in a night of musical remembrance of his vast and varied musical history at Lucky Strike Live in Hollywood, California.
During the event the Menza family will exclusively open up the Mega vault and auction off the late drummers personal and private collection of signed MEGADETH memorabilia and original acrylic paintings created by Menza himself.
Highlight's of the auction will feature:
Menza's personal and custom made MEGADETH leather motorcycle jacket that Menza was seen wearing during the 1990's Rust In Peace tour and many photo shoots. Custom Made MEGADETH Nuc Themed Skateboard Handcrafted by Nick. Countdown To Extinction Certified Platinum Award – So Far, So Good… So What! Gold Sales Award.
Very rare, one of kind brown suede vest Nick wore during the 1994 Youthanasia photo shoot, donated by Jimi Austin and signed by Dave Mustaine. Signed custom made MEGADETH Cryptic Writings boardshorts. Signed Countdown To Extinction hat.  Signed VIP MEGADETH backstage tour laminates.Tour books. Personal Soultone Cymbal Baseball Jersey.
More to be announced.
It's an all day fundraising event, If you can't personally make it out you can buy a $20.00 ticket to show your ongoing support. The event will stream live, exclusively at 5 PM, PST through the official Nick Menza Facebook page where fans worldwide will have an opportunity to own a piece of MEGADETH history.
Also appearing that night will be a tribute from rock musicians and former bandmates coming together to honour their legendary friend. A full list of currently scheduled performers can be found here.
All of the proceeds go to benefit Nick's two boys, Donte and Nicholas Menza. For ticket's and full list of photographed auction items that will be on display and open for bidding,  go here.