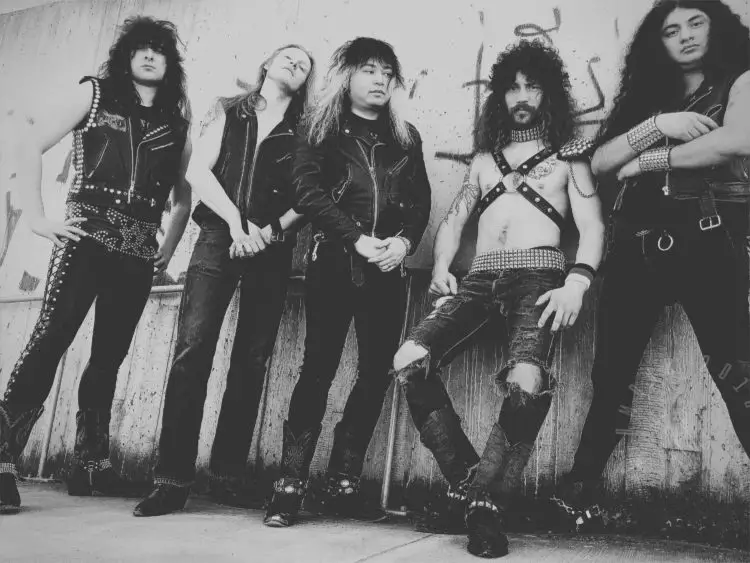 LEATHÜRBITCH are a promising new American band skillfully combining glam and speed metal. They were formed in 2015 by founding members Patrick Sandiford (guitars) and Meshach Babcock (drums) and consist of a group of seasoned musicians that have made a name for themselves in the Northwest metal community. Based in Southeast Portland, Oregon, LEATHÜRBITCH started with a low budget three-track demo that caught people's attention right away. Since the initial demo tape, the four-piece has recorded a self-titled EP and played several shows in their hometown, as well as Seattle and Chicago.
The release of the band's five-track debut EP on High Roller Records in 2018 is now followed by "Into The Night," the first full-length album by LEATHÜRBITCH.
"Some major similarities between our mini-album and »Into The Night« have to do with their production," compares singer Joel Stair the first two LEATHÜRBITCH records. "We decided to work with the same talented people that made our first release a success (Charlie Koryn and Joel Grind). We also worked with model Breanna Whipple once again for the album photography. "Into The Night" is definitely LEATHÜRBITCH at the next level."
LEATHÜRBITCH's very own mixture of glam and speed metal is unique within the confines of the current metal scene. In the past, bands like B*tch, Lizzy Borden and the rather obscure Leather Nun came close to Leathürbitch's approach but this was way back in the 1980s …
"Certainly," finds Joel Stair. "There really aren't any other bands like Leathürbitch in the Portland metal scene, and we love that. We love that we have something unique to offer at a show. There are bands out there that share similarities with us, but they are all scattered throughout the entire globe and aren't very common."
Reactions to the release of the five-track mini-album on High Roller Records have been really good. Did the band expect such warm reactions?
"That's fantastic," beams Joel Stair. "I would say that the High Roller LP release of our mini-album has been the most popular format. We are so happy that people enjoy our mini-album and we are incredibly thankful to be working with High Roller Records to continue delivering more music. We are just doing what we love, creating the music that we want to hear!"
Read our review here.