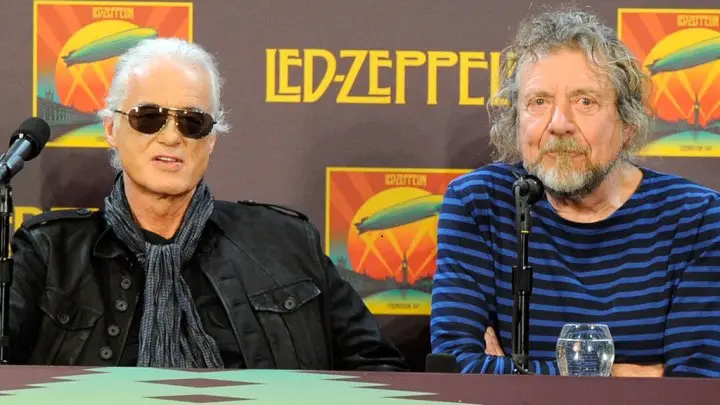 LED ZEPPELIN's Jimmy Page and Robert Plant could settle their entire copyright infringement lawsuit over their 1971 classic "Stairway To Heaven" for one dollar, but they would have to give a songwriting credit to late SPIRIT guitarist Randy California.
The representatives of California's estate say that future earnings from the credit would be used to provide musical instruments and music lessons for deprived schoolchildren.
Robert Plant and Jimmy Page will not appear at the upcoming trial, but have already sat for individual depositions in their defense.
The performance and publishing worth of LED ZEPPELIN's "Stairway To Heaven" is estimated to be over $560 million.
The Pulse Of Radio posted some of the restrictions for the upcoming lawsuit that may act in Plant and Page's favor:
* The only version of "Taurus" that will be allowed to be played during the trial will be those that were filed with the copyright office in 1967. Other versions that the plaintiff's lawyers wanted to present that, presumably, showed the similarities between guitar passages even better, are now off limits.
* The expert's written opinions that were to be submitted at trial that were based on the disallowed recordings have been rejected. The plaintiff's lawyers have five days to submit new reports based only on the allowed recordings.
* All testimony on LED ZEPPELIN's history of plagiarism is barred. The only evidence that will be allowed will be two quotes made by Jimmy Page, himself, in magazine articles on how he wrote music.
* There will be no testimony on the drinking or drug habits of the members of LED ZEPPELIN.
* There will be no testimony on the wealth of the members of the group.