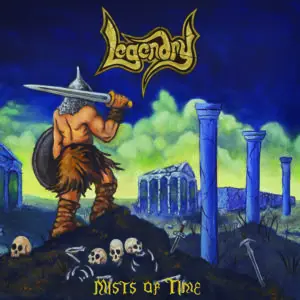 This is a re-release of 2016's "Mists of Time," Legendry's debut album. The 2017's "Dungeon Crawler" review showed a mature band who gave the world an album full of songs that impressed me by their quality and the recording quality. As it would be expected as a debut album, "Mists of Time" is raw, however a bit unpolished. On the other hand, some bands are so loyal to the 1980s sonancy that they try to emulate even the poor conditions of the independent recordings of that time. The album is ful of them and that's noticiable from the very first seconds of the album and, especially, when the voice takes over. In general, voice's recordings are the one which give up the poor quality of the recording. Too much echo, too less echo, way mixed or poor mixed, you choose. In this particular case the voice was with too much echo. But, wanna know? All this gives the album that certain charm. I guess this kind of charm was really the intial intent of the band. To sound like this, in fact, is desired by Legendry.
"Mists of Time" opened up the curtains for Legendry give their act. The guitars are strong and fiercy. The sound of rhythm guitar are just a little opaque, but I guess this was the band's choice in order to give the songs more power with a lower tune without having to give the guitars a low-tune. In this very particular case, guitarists used the fifth and the sixth strings in general using the A or B tone to sound lower. Some bands also do that to give a big contrast when the solo guitar comes, and this was achived with flying colors. That can be perceived in "Necropolis" a Manilla Road cover. A fun fact is that Legendry still got to obtain the same 1970s feeling that some 1980s had. When the fan listens to "Winds of Hyboria" this can be felt especially regarding to the vocals and the unison chorus.
The general mood of "Mists of Time" is of a band that really knows what they want. Eahc move was rigorously planned. However, that doesnt take the legit spontaneity from Legendry. "Mists of Time" has a true sonancy. It's really the real deal.
Legendry "Mists of Time" will be re-released on March 26th via High Roller Records.
Track Listing:
Cimmeria
For Metal We Ride
Ancestors' Wrath
Phoenix on the Blade
Attack of the Necromancer
Mists of Time
Necropolis (Manilla Road Cover)
Winds of Hyboria
Cimmeria (Reprise)
Watch "Phoenix on the Blade" official video here: