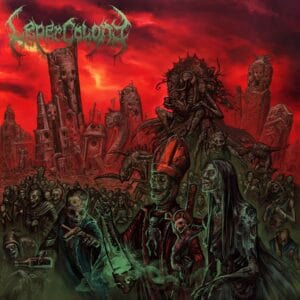 My guess is that Rogga Johansson is trying to break the world record of bands he formed or took part in. The Encyclopaedia Metallum listed all his active bands and the number is just fantastic: 47 bands! You can always check the list at Encyclopaedia Metallum. Here we had the honor to review 2022's Paganizer "Beyond the Macabre," 2022's Carrion Vael "Abhorrent Obssessions," 2021's Necrogod "In Extremis," 2021 Massacre "Resurgence," 2020's Revolting "The Shadow at the World's End," 2019's Rogga Johansson "Entrance to the Otherwhere,"2018's Johansson & Speckmann "From the Mouth of Madness," 2018's Down Among the Dead Men "…And You Will Obey Me," and finally – I guess! – 2017 Echelon "The Brimstone Aggrandizement." Wow! I don't if the man has broken the record, but I guess he sure deserves it.
Now we've got his newest project Leper Colony which also envolves Marc Grewe (ex-Morgoth, Insidious Disease) on vocals. I have to say that the music is really pulsating and quivering. Marc Grewe's vocals does have a part in this. His voice is much more to Lemmy Kilmister's or Tom Araya's than to the guttural today's Death Metal. That makes the music in here with dissimilar of what has been made these days. I guess I would say more exciting. Album welcomer "The Human Paradox" delivers even some high pitched notes contrasting with the harsh interventions. The frentic mood goes out in tracks as "Rapture Addict" and the fast "Flesh Crawl Demise." "Leper Colony" also delivers moody gloomy tracks as its tittle whose guitars took a different more melodic direction with lots of growls. The drumming also calls the eye due to its simple but effective pounding.
To say that "Leper Colony" is a powerhouse of guitar riffs is somewhat redundant. The album is pretty varied as my dear child of the night may notice with tracks as "Perdition's End" with its moody and almost slow cadence. It's also impossible not to notice the 1980's Old School Death Metal influences in it and the addition of some Thrash Metal especially when it comes to the drumming. I really don't know if this is Rogga Johansson's best album but it's the most pulsating and exciting.
Leper Colony S/T will be released on January 13th via Transcending Obscurity Records.
Track Listing:
The Human Paradox
Perdition's End
The Surgical Undeadvors
Tar and Feathers
Rapture Addict
Leper Colony
A Flow So Greatly Macabre
Flesh Crawl Demise
Gruesome End
Watch "The Human Paradox" official video here: