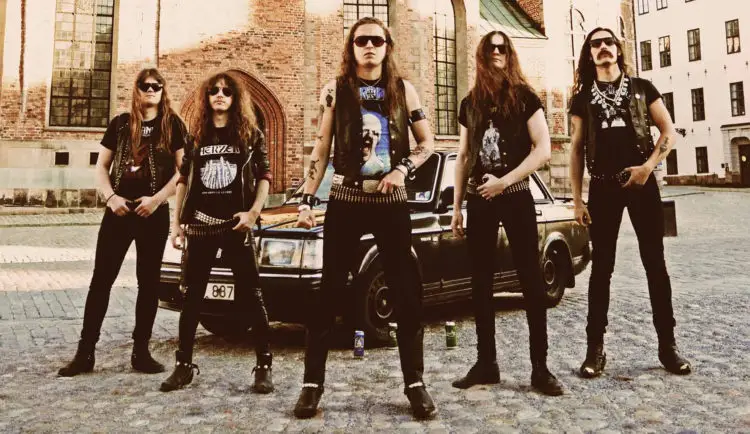 In 2012 LETHAL STEEL from Sweden issued their first demo (with a circulation of only 50 copies) and started playing some smaller venues in their home country. Guitarist Johan Frick explained a few years back: "The demo was recorded at Fryshuset during a couple of weeks in May 2012. We recorded it all by ourselves. We rushed the recordings to finish the demo before 'Muskelrock' to have something to show the people at the festival. That year we went directly from 'Muskelrock' to 'Sweden Rock'."
LETHAL STEEL went on to sign a deal with High Roller Records and issued their debut album "Legion Of The Night" in 2016. "I felt the reactions from the press were mostly very positive, more positive criticism than we first believed the album would get," describes vocalist Viktor Gustafsson the press reactions to their first album.
"Running From The Dawn" is the name of the band's new EP featuring four new songs. That's a gap of four long years between "Legion Of The Night" and "Running From The Dawn," why that? "Many reasons," explains Gustafsson. "First of all we had a couple of line-up changes along the way. At the end of 2018 we started to talk about writing new material and the idea of this EP was born. At the end of September 2019 the EP was ready for mix and master. We were playing live a lot in 2016 and did a tour early that summer. Afterwards it's been more rare, because of the various line-up changes I have just mentioned. But now we will seek to start playing live more, and get started with some more creative action in the band."
"I would say mostly the vocal structures are the biggest difference between 'Legion Of The Night' and 'Running From The Dawn,'" Viktor Gustafsson continues. "I believe we've written songs more fitting for my style of singing. Otherwise the songs are pretty much built in the same way, with fast riffs and pounding drums."
"Ge Allt" from "Running From The Dawn" is once again a song sung in Swedish (LETHAL STEEL had one on the first record as well). Not a lot of bands from the traditional first wave of Swedish metal bands in the late 1970s/early 1980s had Swedish lyrics… Viktor Gustafsson explains: "Not too many, that's correct. But quiet a few of the underground bands like Jonah Quizz, Reflex and Onyx worked with Swedish lyrics. I think this gives a vibe to the songs that is hard to reach when you sing in English."
Read our review here.