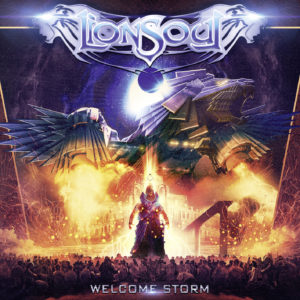 Every time when I'm going to start a review I look at the release bands send us. There I get some more information about them, and sometimes ideas of what to write. As it's written in LionSoul's release, there are no exaggerate keyboards nor even the typical schemes of the style. That's the pure truth. "Welcome Storm" is a simple, but not ordinary effort. Indeed, I'm not really sure if LionSoul are a power metal band. I'd rather call them simply heavy metal. There are only two songs that are fast enough to be considered power metal, and they're "Welcome Storm (Eternal Quest)" and "Next Genesis," which in the context of the album, maybe considered fast heavy metal songs. It should be this way if we were in 1986, for instance. But, on second thought, LionSoul "Welcome Storm" could be evaluated as an american power metal band from the mid 1980s.
All ten tracks are pretty consistent, and there are no ups and downs in quality. One may like one song more than the other, and that's just the way it is. Songs are well-written, jumps to the eyes the effort LionSoul's musicians made to give "Welcome Storm" a nice shape. Therefore, all guitar solos tell a story. I mean, they're not only show ups to the guitarists, they're actually part of the songs. A good example is "The Principal Warrior." LionSoul's musicians work as a whole unity, everybody is soul compromised to the band. And that what makes a great band.
LionSoul "Welcome Storm" is an album that you can hear without any odd surprise. LionSoul give what they promise in the cover: pure metal madness.
Track Listing:
A Common Forever
Beyond Dusk
Bright As Light
Gatling Sight
Iron Whispers
Lion's Throne
Next Genesis
The Principal Warrior
The Thunder Master
Welcome Storm (Eternal Quest)
LionSoul "Welcome Storm" welcomed the storm on June 23rd via Limb Music.
You can watch "Next Genesis" official video here: