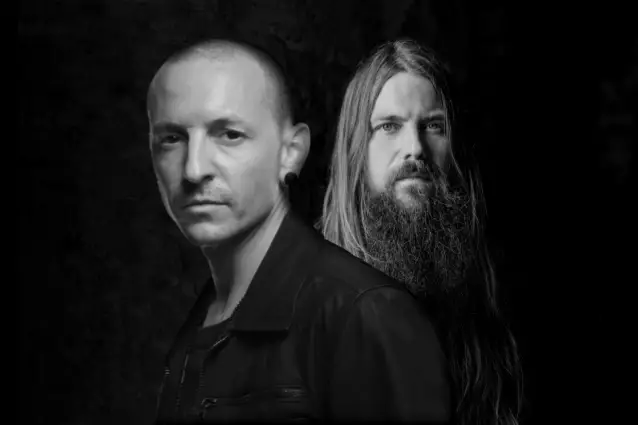 Mark Morton, the prolific guitarist of LAMB OF GOD, has released the second single from his debut solo album, Anesthetic, which is due out March 1. The official lyric video for "Cross Off", featuring late LINKIN PARK singer Chester Bennington, can be seen below.
"Cross Off" was recorded in April 2017 and written by Morton, Bennington, Jake Oni and producer Josh Wilbur. Morton recorded all guitars with Paolo Gregoletto and Alex Bent(TRIVIUM) handling bass and drums. The composition of the song began between Morton, Wilbur and Oni before the three approached Bennington about singing vocals. Bennington loved the song and came to the studio with additional ideas and lyrics that, together with his unique and incredible vocal style, shaped the song to be what it is today.
Morton told Metal Hammer magazine about his experience working on "Cross Off" with Bennington: "[Chester] just had a lot of creative input at the ready when he came into the studio," Mark said. "That was my initial, like, wow. He had told me he really liked the song, and we had communicated, but I'd never really hung out with Chester until when we started tracking. I was really impressed for a guy at his level, at the place in the career he was at, someone of his stature and celebrity, to have that level of humility and commitment to come in there and treat this like it would be a LINKIN PARK song, or his own song, or whatever. I was pretty blown away by that. And it was immediate. Fifteen minutes after we met, we were standing over a table, one on either side, each with scraps of paper and pencil, crossing off words and trying different rhyme schemes and stuff. And then after the track was laid out, then we took a breath and started talking about more personal stuff — real-life s**t. And yeah… he surprised me the most."
Asked how they connected in the first place, Mark said: "I had my people call his people. It was one of those things where we were listening to the song, like, who in our world would we have singing this? And Chester was the name that came out. So we almost didn't try, because it's Chester Bennington; he's such a superstar. We were kind of, like, come on, we can't get him. But if we hadn't tried, we wouldn't have got him, so we tried, we got his ear, I was surprised to find I was on his radar and all, but through LAMB I was. He heard the song and he was in. It is a really good song. I'm sorry; I don't know if I'm allowed to say that, but it's a good goddamn song, right? We had to iron out a couple of things legally and all that kind of stuff, but on the creative side, he was in from the jump. And I didn't realize how in he really was, but when he showed up, I did, and that was humbling for me."
Singers on the album include Chester Bennington (LINKIN PARK), Randy Blythe (LAMB OF GOD), Jacoby Shaddix (PAPA ROACH), Myles Kennedy (SLASH, ALTER BRIDGE), Alissa White-Gluz (ARCH ENEMY), Mark Lanegan, Chuck Billy (TESTAMENT), Jake Oni, Josh Todd(BUCKCHERRY), Mark Morales, and Naeemah Maddox. Musically, Morton performs all guitars, with Roy Mayorga (STONE SOUR), David Ellefson (MEGADETH), Ray Luzier (KORN), Paolo Gregoletto (TRIVIUM) and Alex Bent (TRIVIUM), Mike Inez (ALICE IN CHAINS), Jean-Paul Gaster (CLUTCH), Steve Gorman and Marc Paul rounding out the band.
"Anesthetic" track listing:
Cross Off (feat. Chester Bennington)
Sworn Apart (feat. Jacoby Shaddix) 
Axis (feat. Mark Lanegan) 
The Never (feat. Chuck Billy + Jake Oni) 
Save Defiance (feat. Myles Kennedy) 
Blur (feat. Mark Morales) 
Back From The Dead (feat. Josh Todd) 
Reveal (feat. Naeemah Maddox) 
Imaginary Days
Truth Is Dead (feat. Randy Blythe + Alissa White-Gluz)