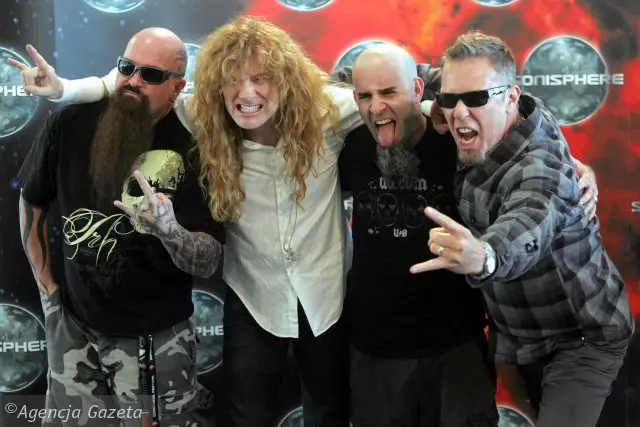 YouTube user Mateus Elildo posted a video playing the METALLICA's latest single, "Hardwired," with classic tones from SLAYER, MEGADETH, PANTERA and ANTHRAX.
He wrote: "What if METALLICA's "Hardwired" [would] have been recorded by Dimebag, Jeff Hanneman, Scott Ian or Dave Mustaine?"
METALLICA will release their highly anticipated follow up to Death Magnetic in November called Hardwired…To Self-Destruct! Two discs, nearly 80 minutes of music is coming your way on November 18, 2016.
Produced by Greg Fidelman, along with James and Lars, this is the band's 11th studio album and is available for pre-order in a variety of configurations including 12 songs on a double CD, vinyl, digital download, as well as a deluxe version with the riffs that were the origins of the album. Everyone who pre-orders the album throughMetallica.com will receive an instant download of the song "Hardwired."
Hardwired…To Self-Destruct track listing:
Disc One
Hardwired
Atlas, Rise!
Now That We're Dead
Moth Into Flame
Am I Savage?
Halo On Fire
Disc Two
Confusion
Dream No More
ManUNkind
Here Comes Revenge
Murder One
Spit Out The Bone
Disc Three (deluxe edition only)
Lords Of Summer
Riff Charge (Riff Origins)
N.W.O.B.H.M. A.T.M. (Riff Origins)
Tin Shot (Riff Origins)
Plow (Riff Origins)
Sawblade (Riff Origins)
RIP (Riff Origins)
Lima (Riff Origins)
91 (Riff Origins)
MTO (Riff Origins)
RL72 (Riff Origins)
Frankenstein (Riff Origins)
CHI (Riff Origins)
X Dust (Riff Origins)