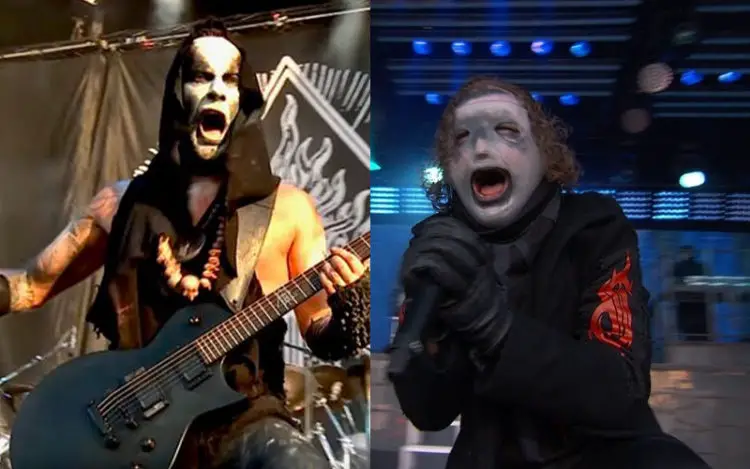 Nergal's ME AND THAT MAN's second album, New Man, New Songs, Same Sh*t, Vol.1, is out today via Napalm Records.
The enthralling album visits a completely new spectrum of dark desert vibes and sees notable heavy music icons such as Corey Taylor (SLIPKNOT), Brent Hinds (MASTODON), Matt Heafy (TRIVIUM), Ihsahn (EMPEROR) and Sivert Høyem (MADRUGADA) join the pact with the devil. New Man, New Songs, Same Sh*t, Vol.1 is a diversified, dynamic masterpiece that presents Nergal in a completely new light, providing a strong contrast to the heavier sounds of BEHEMOTH. Evil has truly never sounded so good.
Below you can hear song "How Come?" featuring Corey Taylor, Brent Hinds and Rob Caggiano.
Nergal recently spoke with Loudwire on how was it like working with eleven different artists on the album: "Ihsahn from EMPEROR surprised everyone with what he did. All the people who've heard "By The River" have commented on how they never knew he could sing so emotionally. The world has never heard him perform like that before, which is amazing.
He continued: "And then with Corey Taylor, just the fact that he's taking part in a niche project like this is mind-blowing to me; he's such a busy guy, but he really took his time with this and contributed some awesome parts — working with him has made my career, to be honest.
"To be completely frank, working on this record has made me feel like a teenager again, opening Christmas presents from all these artists I respect so much," Nergal added. "And I'm not taking this for granted: New Man, New Songs, Same Sh*t, Vol. 1 has been a great artistic adventure and challenge for me, and one I feel I've pulled off. Doing this has left me feeling very fulfilled.
New Man, New Songs, Same Sh*t, Vol. 1 track listing:
01. Run With The Devil (feat. Jørgen Munkeby of SHINING)
02. Coming Home (feat. Siver Høyem of MADRUGADA)
03. Burning Churches (feat. Mat McNerney of GRAVE PLEASURES)
04. By The River (feat. Ihsahn of EMPEROR)
05. Męstwo
06. Surrender (feat. Anders Landelius of DEAD SOUL)
07. Deep Down South (feat. Nicke Anderson of ENTOMBED / Johanna Sadonis of LUCIFER)
08. Man Of The Cross (feat. Jerome Reuter of ROME)
09. You Will Be Mine (feat. Matt Heafy of TRIVIUM)
10. How Come? (feat. Corey Taylor of SLIPKNOT and STONE SOUR) / Brent Hinds of MASTODON)
11. Confession (feat. Niklas Kvarforth of SHINING)