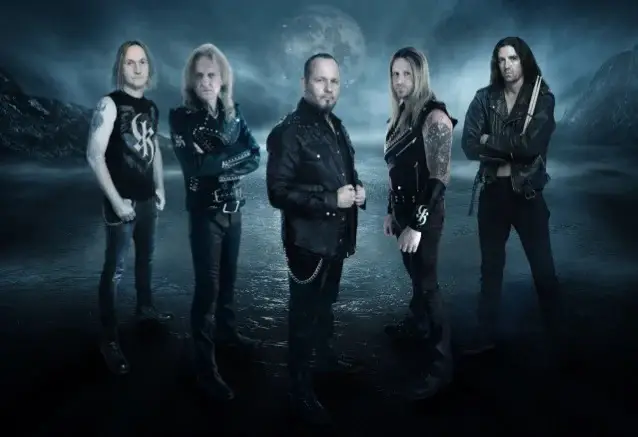 KK's PRIEST, the band comprised of renowned former JUDAS PRIEST guitarist, K.K. Downing and former vocalist Tim "Ripper" Owens, have previously announced the release of Sermons Of The Sinner via Explorer1 Music Group/EX1 Records on August 20.
Now, the band has released third single, "Brothers of the Road," which can be heard below.
With Downing on guitar, KK's PRIEST also features ex-JUDAS PRIEST member Tim "Ripper" Owens on vocals, who fronted the band for eight years and recorded two studio albums, Jugulator, featuring the GRAMMY® nominated track "Bullet Train," and Demolition, plus two live albums. They are joined by Tony Newton (VOODOO SIX) on bass, A.J. Mills (HOSTILE) on guitar and Sean Elg (DEATHRIDERS/CAGE) on drums. Original drummer, Les Binks, unfortunately sustained a wrist injury, but will make special guest live appearances when the band tours. 
Sermons Of The Sinner is an incredible collection of future metal classics, sure to be one of the stand-out metal releases of 2021. K.K Downing's genre-defining guitar style helped establish JUDAS PRIEST's iconic sound and helped propelled them to one of the top Heavy Metal bands of all-time, earning numerous  accolades including a GRAMMY® in 2010 for "Best Metal Performance," a total of five GRAMMY® nominations and multi-platinum and gold releases.
Sermons Of The Sinner track listing:
01. Incarnation
02. Hellfire Thunderbolt
03. Sermons Of The Sinner
04. Sacerdote Y Diablo
05. Raise Your Fists
06. Brothers Of The Road
07. Metal Through And Through
08. Wild And Free
09. Hail For The Priest
10. Return Of The Sentinel
KK'S PRIEST is set to tour worldwide as soon as current restrictions are lifted. Details of touring to be announced.