A p*rn-grind fiend's sickest fantasy come true! Metal Age Productions is now taking order for a limited-edition vinyl box set featuring three classic albums from Illinios-based deviants LIVIDITY.
Hand-numbered and strictly limited to 100 copies, the collection includes The Age Of Clitoral Decays (2000)  on transparent red vinyl, … Til Only The Sick Remains (2002) on transparent yellow vinyl and the 2006 masterpiece Used, Abused and Left For Dead on ox-blood vinyl. Each gatefold LP comes with new cover artwork and layout (poster included).
You can order here.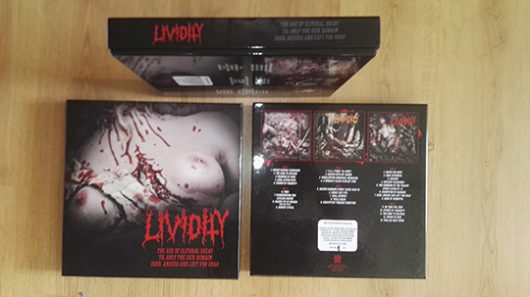 Later this month, LIVIDITY will unleash their first offering of new material in nearly 9 years. Perverseverance, the band's seventh full-length, features 12 of their most guttural, brutal and unapologetically deviant songs to date.
Check out album track "Kill Then F*ck" here.
Metal Age Productions will release Perverseverance November 30 on digital, CD, gatefold vinyl and limited-edition collection vinyl box set. Pre-orders available here.
Perverseverance features guest vocals by Dan Klein (Fin), Anthony Voight (Gorgasm, Sarcophagy). The album was recorded, mixed and mastered at Iron Hand Audio-Chicago and engineered by Dan Klein, produced by Dan Klein and LIVIDITY. Cover artwork by Daemorph Art, with graphic layout by Dodo Datel (Galadriel).