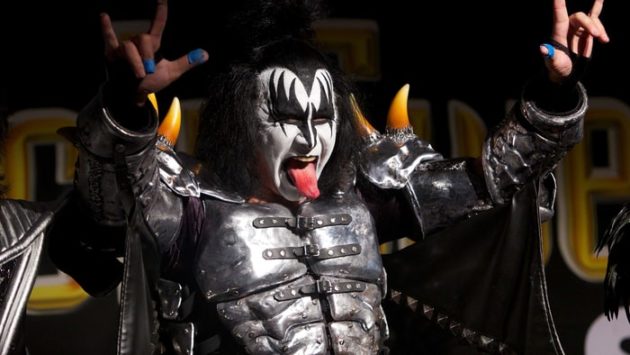 Gene Simmons, the long-tongued CEO from Kiss Corp., seems to have no boundaries anymore for his badmouthing. Guess who is his new victim? His own band!
In an interview with OK! magazine he said that he still hates to play the song alive and other things about his relation with Paul Stanley. Take a look:
"Well, Paul Stanley comes in and he says, 'Did you write any songs?' I go, 'Oh, yeah. I've got one called 'Almost Human'.' 'Yeah? How does it go?' 'I'm almost human. I can't help feelin' strange.' 'Yeah, that's cool. That's a Gene song.' 'How about you, Paul?' He goes, 'I've got one. [It goes] 'Tonight." "Ooooh. That's cool. What's the next line?' 'I'm gonna give it all to you.' 'Oh, yeah. I know what 'it' means — I know exactly what you mean.' 'In the darkness.' [Claps] 'Love that!' 'There something I wanna do.' 'Yeah, I know what that 'something' is. Wow! That's a cool song. Okay, what's my part?' [Sings] 'Do, do, do, do, do, do, do, do, do.' 'You're killing me. Really? I'm gonna sing like my grandmother?' [Sings] 'Do, do, do…' I hate playing that song to [this] day. Stadiums full of people jump up and down like biblical locusts — they go nuts — with tattoos and grills on… 'Ahhhh!' They're all jumping up and down, and I'm going, 'Do, do, do, do, do, do… Kill me now.' Still — still to this day I hate that song."
Not happy with all that, he told some unpolite things to the female interviewer:
"Well, how about you sing that song? You're a girl. I wanna sing guy stuff."
Any visible signs of senility or just his mother didn't give him any education? Both?
Watch the interview here: