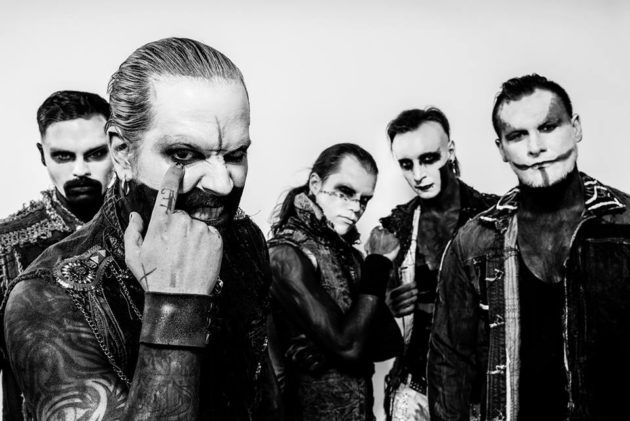 German genrefluid visionaries LORD OF THE LOST prove that they have matured both musically and lyrically, and return with their seventh studio album, JUDAS, which is due out July 2nd, 2021 via Napalm Records. They have released a new single "Priest". Check out the music video for the track "Priest" below.
With this remarkable offering, the five-piece cement their position as exceptional artists that can't be pigeonholed once more, which their brand new harbinger and single "Priest", is already proof of. The very first song immediately unveils a leitmotif that runs through the whole record and serves as a uniting symbiosis for the double album, divided in two conceptual parts,  Damnation and Salvation, with 24 songs in total.
LORD OF THE LOST on the new single and video:
"With 'Priest', we dive deep into a visual world that is meant to convey the very core emotion of the upcoming album, JUDAS, to the viewer. This comes along with a story that leaves room for many means of interpretation while keeping the purpose of the album concept. The artist XELANAH shines as the protagonist here, symbolically representing the emotional tension of the figure of Judas Iscariot. That role will also appear and continue in further videos, just like you know it from, for example, AEROSMITH. The song itself manages to unite all the emotion and soundscape that makes up the album – a cinematic trailer for the ears. And even a deliberately placed GENESIS quote from the mouth of Judas himself is suddenly seen in a completely new light."
Part of the video for "Priest" was shot in the so-called Einhornhöhle (engl. unicorn cave) in Germany back in August 2020. LORD OF THE LOST continue introducing their female protagonist and artwork model, a process that was already set free with the teaser video for "The Death Of All Colours", and weaves the common thread of JUDAS visually as well. She represents the inner conflict of good and evil that can be interpreted in several ways.
LORD OF THE LOST on JUDAS:
"Don't judge a book by its cover. This sentence could hardly apply any better to someone in theological history than to the figure of Judas Iscariot, who represents only one thing at first glance: Betrayal. If you take a closer look, almost endless possibilities of interpretation open up here: from "Judas the murderer" to "Judas the redeemer" and "Judas the actual martyr", who, if you believe in it, could only find room in hell for his salvific betrayal after dying for what he did, in complete contrast to Jesus Christ. This field of tension and the apocryphal writings of the "Gospel of Judas" are the basis for a double album that not only illuminates the dark and light side of history, but above all the grey areas in between, in which we move emotionally and ideologically throughout our lives and try to find our place."
JUDAS Tracklisting:
CD1: Damnation
1. Priest
2. For They Know Not What They Do
3. Your Star Has Led You Astray
4. Born with a Broken Heart
5. The 13th
6. In the Field of Blood
7. 2000 Years a Pyre
8. Death Is Just a Kiss Away
9. The Heart Is a Traitor
10. Euphoria
11. Be Still and Know
12. The Death of All Colours
CD2: Salvation
1. The Gospel of Judas
2. Viva Vendetta
3. Argent
4. The Heartbeat of the Devil
5. And it Was Night
6. My Constellation
7. The Ashes of Flowers
8. Iskarioth
9. A War Within
10. A World where We Belong
11. Apokatastasis
12. Work of Salvation