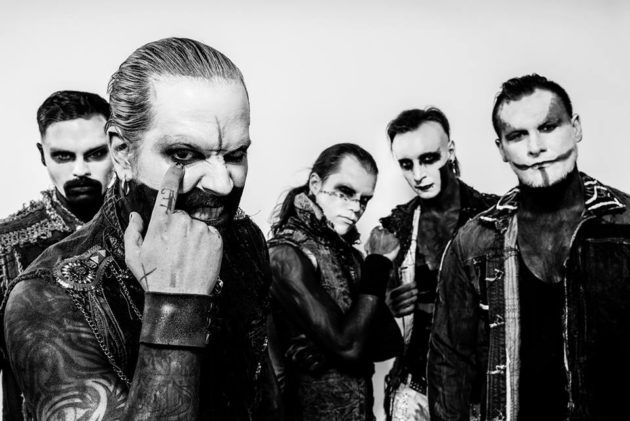 With their Swan Songs-series, dark rockers LORD OF THE LOST showcase their ability to create fascinatingly heavy classical music. Released on October 6th 2017 via Napalm Records, this is the second time the Hamburg-based band have conjured their music with an ensemble album in such grandiose style!
LORD OF THE LOST have now released a brand new and very touching lyrics video for the track "My Better Me". You can check it out below.
Vocalist Chris Harms says: "My better me would say the 'My Better Me' ist a song about hope and about trying to change for the better. But in the end it's only a mirror of what we are and we might not like what we see when looking at our reflection. So this most personal of all the albums tracks eventually turns out to be a song not only about me but about each one of us."
With effortless grace, LORD OF THE LOST have managed to establish their unique trademark sound while they always create a contrast of musical extremes: Catchy ballads with hit-potential meet harsh metalcore-attacks, with no fear for excursions into the symphonic, industrial metal and heavy rock that goes straight into your heart and face!
But with "Swan Songs II", once more LORD OF THE LOST manage to deliver their songs with a new beauty and gloss, and prove that they cannot be reduced to their brute site only. Swan Songs II' features ten brand-new songs, which showcase tender strings and charming piano play with a heaviness one has come to expect from the band. A touching creation with top arrangements!
In support of their new album, LORD OF THE LOST will be hitting the road for a special album release tour, catch the band live on the following dates:
17.11.17 DE – Hamburg / Markthalle
18.11.17 DE – Hamburg / Markthalle (SOLD OUT!)
21.11.17 DE – Dresden / Alter Schlachthof
23.11.17 DE – Berlin / Huxleys
24.11.17 DE – Bochum / Christuskirche (SOLD OUT!)
25.11.17 DE – Munich / Backstage
26.11.17 DE – Frankfurt / Batschkapp