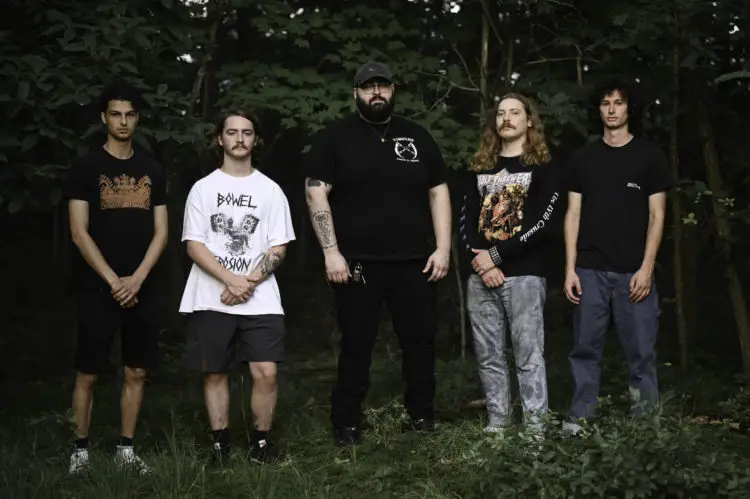 One of New Jersey's foulest HM-2 vehemence to come up in recent years, LUNAR BLOOD transpire a brand of vile chainsaw-violence on the debut "Twilight Insurgency."
While LUNAR BLOOD dwell immensely in the realms of all-out-war extreme Metal atrocity, it is the Hardcore/Punk sensibilities that strengthens the very core of the band; sonically giving "Twilight Insurgency" an urgent pulse amidst the harsh dystopian nature ingrained in the DNA of LUNAR BLOOD.
Engineered and mixed by Scot Moriarty at Backroom Studios (Sunrot, Heavy Sigh, Unhinge, etc) and mastered by Brad Boatwright at Audio Siege (Trap Them, Gatecreeper, Full Of Hell, etc). Artwork by German illustrator Misanthropic Art (Bell Witch, Asphyx, Chapel Of Disease, etc).
* Formed only in November 2020, LUNAR BLOOD very quickly recorded a two-track demo simply titled "Demo 2020" under the engineering helm of Scot Moriarty at Backroom Studios.
* Comprising of previous members from Blackened Crust band Woodland Tomb, LUNAR BLOOD continued in the same musical direction, albeit more Death Metal.
* LUNAR BLOOD draw inspiration from the disgust of the worldly and social themes such as war, human cruelty, state violence, oppression, queer liberation and mental turmoil.
* For fans of All Pigs Must Die, Cult Leader, Trap Them, etc!
Read our review here.