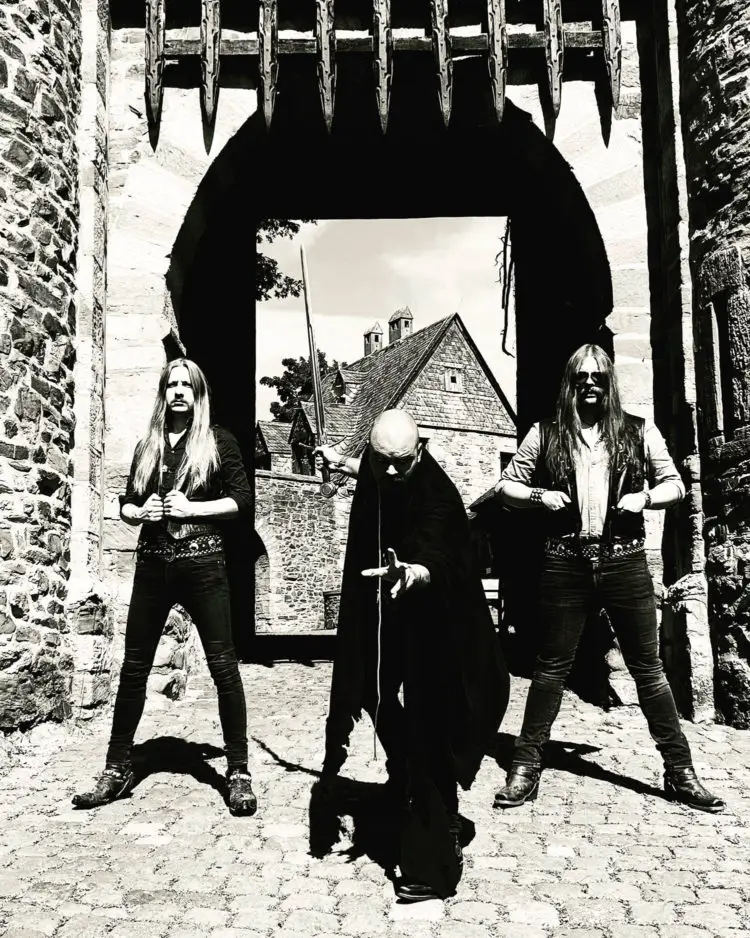 Following their "Rise" EP in 2015 and 2018's "Black Knight" 7" single, North Rhine-Westphalia's LUZIFER, a side project of German thrashers Vulture, are ready to unleash their first full-length album unto the world.
LUZIFER were originally formed in the city of Hamm in 2009 by Leo Steeler (bass) and Stefan Castevet (vocals, guitar, drums). For "Iron Shackles," the band has been joined by an additional band member on drums. Stefan Castevet explains: "LUZIFER are now a threesome. When Gereon Deceiver joined Vulture, it just happened. He is playing drums for LUZIFER as well, handles background vocals and has also contributed to the songwriting. He has injected a lot of energy into the project during its final phase. He is a true blessing for LUZIFER as I haven't been sitting behind the drums for ages (laughs)."
"Iron Shackles" was recorded in the band's rehearsal room and at home, with producer Marco of Hellforge Studio at the helm. The record sounds pretty original (using heavy organ sounds as well as atmospheric background singing), and it's quite hard to pin down specific influences. "We do not strive to be the most original band in the world," laughs Stefan Castevet. "Our style has developed over the years and is a direct result of what we have done with Vulture. Within the band we never talked about influences as such. Sound wise 'Satan's Serenade' by Quartz made a big impression on us, combined with this kinda summer feel of Rocker's 'Mighty Thor.' However, I am not really sure though, if "Iron Shackles" sounds in any way like a mixture of both. Everything sort of evolved during the recording and mixing process. There was no single most important influence whatsoever. I can hear a lot of 70s stuff in our music, and of course classical Heavy Metal acts like Heavy Load."
"Hexer (In Drei Teufels Namen)" might as well be the most unusual song on the album, not least because it's sung in German, as Stefan explains: "Our first release also had a number sung in German. We think that this has a special charm, and not a lot of traditional metal bands do that. Back then we were listening to a lot of bands from the German Democratic Republic, this time around we were just very keen to have a German number on the record."
In addition to that there is a second German-language number on the record, namely a metal version of 'Der goldene Reiter' by Joachim Witt, a huge hit during the era of the Neue Deutsche Welle in the early 1980s. "We don't take ourselves too seriously," remarks Stefan Castevet, "but then again this is more than just a joke. The song itself is just so great! We were stunned to recognize that it did not take a lot of work to make it a heavy metal number, including twin guitars and the whole lot."
Read our review here.