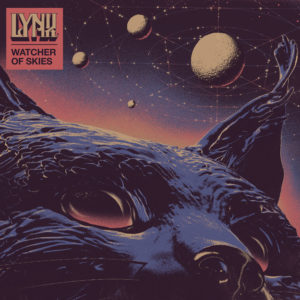 Things in this vital industry move in weird and funny way. There is no such thing as coincidences. It's one of the things I've been saying for a while. Our last review was about obscure and rare and unknown Heavy Metal bands from the 1980s. Well, the subject of this review may not be from the 1980s but their sonance is. Better yet, it's a combination of AOR with Hard Rock and some 1980s Metal with an Epic grip.
This Lynx are a new band and "Watcher of Skies" is their debut album. Again I had the impression I've met the band before. Maybe because there a lot of bands under the monicker Lynx. The impression many fans will get while listening to the album opener "Miscovery" is that this album can't be considered Metal at all. Guitars are too low and their distortion level is also too low. But with some more patient from the fan the thing gets heavier during the 40 minutes and something of it. From where I'm standing, Lynx got to write high melodic and sweet songs. The kind of songs that the fan singalong without even noticing as I did. The songs are catchy and direct and full of energy and melody. Second track has more the spirit of Metal with a nice and frentic guitar riffing however the guitar have little distortion. If they had a little the song would a Metal killer. On the other hand, it's possible to hear perfectly well the bass lines and notice how interesting they are. "Grey Man" has Metal atittude without the needed distortion as some Proto-Metal bands used to do. The guitar licks are great and they kind of adivise the fan of what is to come. Loved the Kiss "Love Gun" drumming in the middle and in the end of it and the epic vocals. This epic grip is a thing that goes in a crescendo in the album. Following track "Lynx" follows the path without the level of guitar distortion that we do appreciate.
The melodies Lynx created for the album are perfect thought the lack of distortion in the guitars. Of course, this is a choice. Maybe the band didn't want to get a more Metal facete or to give their songs a more crystal sound. Maybe the intent was to sound as many other bands from the early 1980s. Just maybe. Ok, then.
Lynx "Watcher of Skies" was released on November 26th via No Remorse Records.
Track Listing:
Miscovery
Grey Man
Lynx
Savage Mountain
Eternity's Hall
Odyssey
Heartbreak City
Beyond the Infinite
Dark Shadows Rising
Watcher of Skies
Watch "Watcher of Skies" official video here: