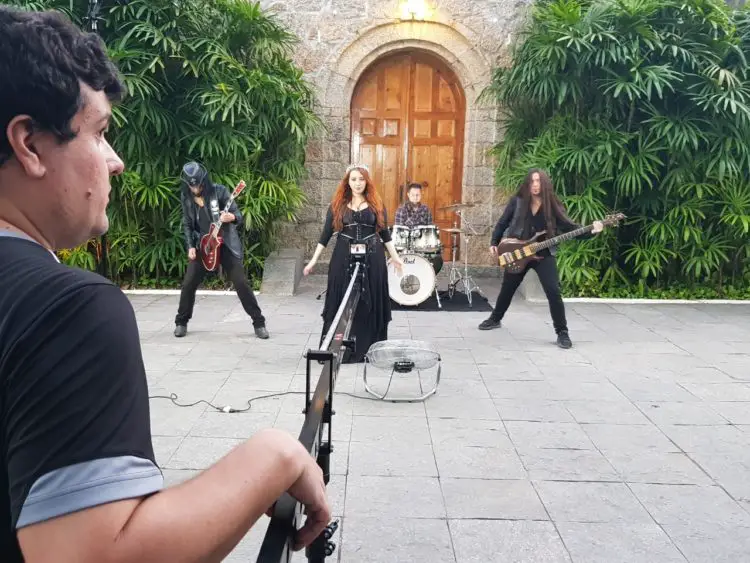 Lyria released on their YouTube channel the making of the clip "The Rain," recorded at Casa Santa Ignez, in Rio de Janeiro, Brazil. Recorded in two days, the video was inspired by the story of an Australian fan, diagnosed on the autism spectrum. The lyrics are about overcoming and about love, and during the video, several easter eggs related to the autism disorder can be observed. The track is part of the album "Immersion," released in 2018, and the video was released in September 2019, and already exceeds 200 thousand views.
Formed by Aline Happ (voice), Thiago Zig (bass), Rod Wolf (guitar) and Thiago Mateu (drums), Lyria also counted on the dedication of the members behind the camera. The vocalist put on makeup for herself, and also for the child actress, Laura Naylor, who plays the children's version of the protagonist. Aline's husband and Rod Wolf were responsible for bringing rain to the clip, using a pressure washer to simulate the feat. Still in the spirit of "Do It Yourself," Aline's mother also cooperated in pre-production, creating the cover used by the vocalist and cutting out the puzzle that appears in the clip.
The backstage of the recording of "The Rain" shows Lyria in an atmosphere of joy and partnership, as is also observed on stage by fans. Since 2012 on the road, Lyria have had a strong connection with causes related to mental disorders. Their songs themes are about overcoming, anxiety and depression which are also addressed, seeking a kind of "self-help" through music.
"I write about my experiences, about something that has marked me in some way, and music works as therapy for me. When we compose, we want to bring this therapeutic function to other people as well. We believe in the power of music to heal wounds, to comfort and to help overcome obstacles and move forward. ", concludes Aline.
Watch "The Rain" mini-doc here:
Watch "The Rain" video here: