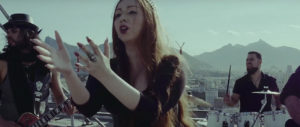 Symphonic metallers Lyria are releasing a new video from their album "Immersion." The message the band wants to pass is that everyone is unique and it's useless, and a pure nonsense, to change oneself just to please others. Furthermore, it takes a lot of guts and courage to accept who you are and to live with it.
"The song is about setting oneself free, how to get away from other people's perspective and to accept yourself with all the qualities and defects which make people unique. Some people project themselves on others and point fingers to their defects not knowing that they really belong to themselves as well. It's about leaving behind the dreams of another and to search for your own dreams, your reason to live," states vocalist and writer Aline Happ.
"Let Me Be Me" video was edited and produced by Vinicius Hozara, CS Music Videos, who also directed and wrote the script alongside Lyria. The video footage was helped by drones commanded by Glauber Barros and CS Music Videos.
Watch "Let Me Be Me" here: