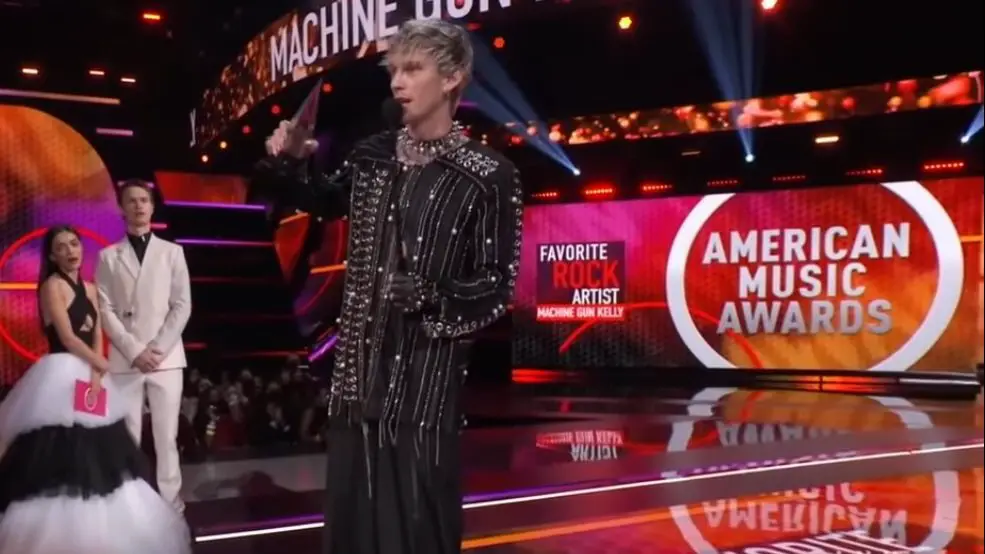 Last night (November 21), Machine Gun Kelly won Favourite Rock Artist at the American Music Awards 2021.
On receiving the award, he declared that the age of the rock star "looks pretty alive to me," while ever-so-humbly making gestures to infer that it was in fact he who was responsible for making sure the rock star age hadn't kicked the bucket once and for all.
Machine Gun Kelly dedicated the award to "all the aspiring musicians — the one who wants to play an instrument, wants to rap, wants to sing. Not just the rock artists, but all the artists who are rock stars.
You can watch his acceptance speech below.
Machine Gun Kelly received a lot of hate from metal fans after he threw shade at SLIPKNOT, saying he was glad to not be a 50-year-old wearing a mask.
During his performance at Riot Fest this past September, MGK said to the crowd: "Hey, you wanna know what I'm really happy that I'm not Being 50 years old wearing a f*cking weird mask on a f*cking stage. Fu*king sh*t. So anyway, what's everyone's favorite candy? Reese's Pieces?"
A few hours later, Kelly followed up with his comments in a tweet, saying that Corey Taylor did a verse for his album Tickets to My Downfall and "it was f*cking terrible," so he didn't use it.
Not long after, Corey issued a response, writing: "I don't like people airing private sh*t like a child. So this is all I'll say: I didn't do the track because I don't like when people try to 'write' for me. I said no to them. So without further ado…. #receipts. This is all I'm going to say about it."