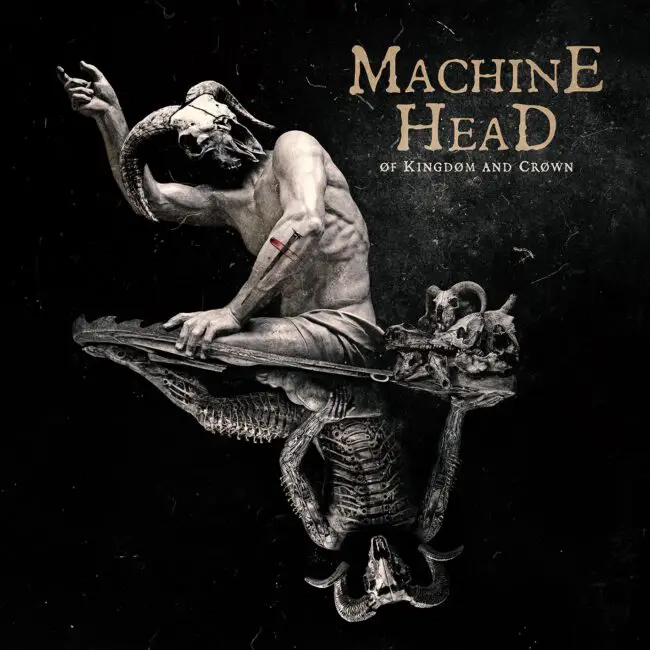 I have always tried to be fair with Metal bands even with the ones I really don't like. That's valid especially to the bands linked to 'cores' I always mention or the 'new' something. Some years ago Machine Head were the talk. Everybody in the Metal world were talking about Machine Head pros or cons, good or bad. So, I tried the band. Please, don't ask me which song I heard because I'm afraid I can't answer that. The only, and most important, thing I remember is that I didn't like them. Then, as I usually do, I forgot the band. Ok, as destiny likes to play tricks on us all the time here I have the newest Machine Head release "Øf Kingdøm and Crøwn," an album that caused me mixed emotions.
Ok, then, now to the album. Well, I put "Øf Kingdøm and Crøwn" to play with a renewed feeling able to forget my first impression with the band. After all it's been so many years and now I'm more used to the kind of music the band plays. Right. I have to say that during the initial moments of ten minute opener track "Slaughter the Martyr" all the emotion I had during my first time cameback. To be really frank I was about to rule the album out. The mix of electronic effects and some new Metal muzak didn't appealed to me but when the music really started something changed. The combination of new Metal with Thrash and Death Metal worked. For instance, I like the general mood of "Kill Thy Enemies" with its martial and almost military cadence. Great drumming as well. Ah, more importantly, now there are guitar solos. Ok, I'm unble to say if there were in the past but as rule new Metal bands avoided guitar solos. In general way, "Øf Kingdøm and Crøwn" has more Metal elements. The guitars are heavy and fierce, vocals are harsh, but the effects are still here. Somebody will have the urge to kill, but I'll make this comparison the guitars in "UnhallWed" sound as Ozzy in "No More Tears Era." There, I said it.
I know my dear fans expected only the truth from me. I'm here to be true, but not cruel, except for only one band that I won't say the name. From where I'm standing, "Øf Kingdøm and Crøwn" isn't a master piece, if I'm allowed to say. Some tracks still have so many elements of the 'cores' or 'news' as "My Hands Are Empty" but they are palatable to me now. I changed, Machine Head changed as well. Nobody's perfect.
Machine Head "Øf Kingdøm and Crøwn" will be released on August 26th via Nuclear Blast Records.
Track Listing:
Slaughter the Martyr
ChØKe ØN the Ashes ØF YØUr Hate
BecØMe the FirestØRm
ØVerdØSe
My Hands Are Empty
UnhallØWed
Assimilate
Kill Thy Enemies
NØ GØDs, NØ Masters
BlØØDshØT
RØTten
Terminus
ArrØWs In WØRds FrØM The Sky
Watch "NØ GØDs, NØ Masters" official music video: