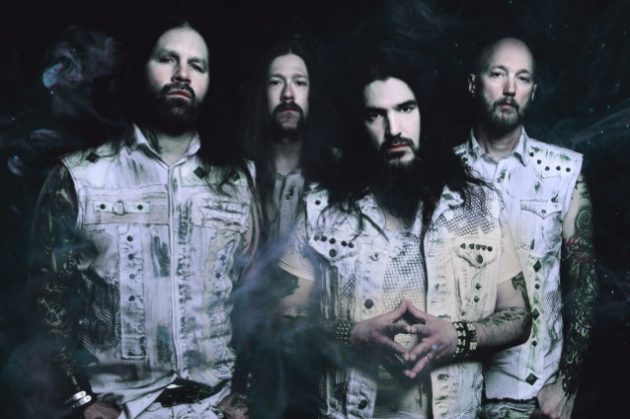 San Francisco Bay Area metal titans MACHINE HEAD, will release their highly anticipated new album Catharsis on January 26 via Nuclear Blast Entertainment. Today, the band has released the brand new track, 'Bastards'.
The song was originally released in late 2016 as a rehearsal room recording and has since been developed and worked on. Listen to the final version that will appear on Catharsis below.
Frontman Robb Flynn stated about the tune:
"To me, it's a folk song. It's four chords that have been played a million times over the last hundred years. And I knew that writing it.
"I just wrote it and I picked it up and those were the notes that worked well under the vocals that I was singing. And that's what worked.
"We got to a point where I just wrote those words. I was using very coarse, almost vulgar language at times. I wrote that song in 40 minutes. I wrote it the day after the [US presidential] election. And it was based on a conversation that I had with my kids. And it was a very difficult, complicated conversation, and I was really affected by it.
"And I just sat down the next day and started writing. And, basically, the first half of it, at least, is based on that conversation. And then it just went on. And then I went into my own thing and it literally just vomited out of my brain in order and in sequence, and when it was done, I was, like, 'Woah! Holy sh*t! I'm saying some sh*t here.'
"And I put it up on YouTube a few days later, just as an acoustic folk version of it, basically – no band; just me and my acoustic guitar. And at the time, I felt that was it -that was gonna be the end of it.
"And I got it out, it's done. And I thought in my head, I always kind of heard a band way that we could do it, but it was just, like… We had just started writing [for the new album], and I didn't wanna go into this. I wanted to just get some metal – kind of set the tone: 'Let's get some metal songs.'
"And we did, and then we got to a point where we started playing it as… you know, recorded it kind of separately, kind of pieced it together, 'cause it's a pretty big arrangement – there's a lot going on.
"And when I had my buddy come in and put on a Hammond organ, and when it got to that Hammond organ part, I got goosebumps. I was, like, 'Holy sh*t! There's something special here. This is a game changer for us. And I know it's way out of our wheelhouse, but we've gotta f*cking roll with this.'"