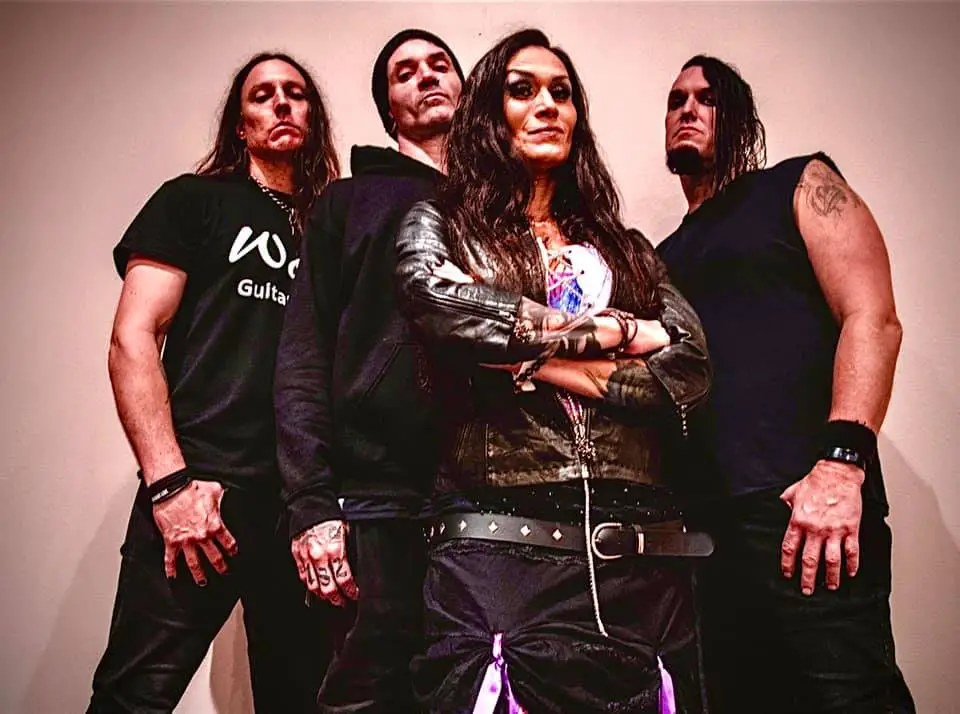 Female fronted alternative rock/metal band MAGG DYLAN have released an official music video for new single "Pawns" via Eclipse Records. Make sure to watch the new video for "Pawns" below.
At times the greatest expression of frustrations bleeds itself over into lyrics, vocals, strings, and a beat. "Pawns" is that collection that rides itself through the metal power of who MAGG DYLAN is – their music sets a standard. The vocal expression plays a power-hungry performance – together their band sanctifies the simple into the metal foray of unabashed truth. "Pawns" speaks through, so play it loudly.
"This song has a very deep meaning for us, and it is a lot heavier than most of the songs from our full-length Amethyst", says lead singer Suzanne De Iulio. "We shot this video exactly 365 days after we shot Delusional with the same director – Digital Thunderdome and they are masters of their craft. The School Bus Graveyard was a perfect location for this video because it signifies abandonment, and I think this really conveys the overwhelming emotions in the song. This was our first experience with a drone camera and that was epic, making for some big shots." Bassist Les Moseley adds: "it was a bone-chilling day and night… freezing! If we were doing anything outside of something for this band it certainly would have been in our top 5 most miserable days because I could feel every degree of that day through every little rip in my jeans and I can only imagine how Suzie felt. Thankfully, Scott, Desiree and the rest of the crew kept us on point and handled everything so professionally. I don't think we could've managed without them!"
"'Pawns' is about feeling controlled. It's about more than what the lyrics appear. I was really nervous about the honesty in our lyrics for 'Pawns'. We just felt so defeated. Brucifer and I were sitting on the beach in the Outer Banks after some 2020 events thinking we still have the sun and our stories to tell. The funniest part was when we did the bridge. Brucifer looked at me and said 'Really? That's what you want to say there? You're an intelligent evolving woman and that's what you want to say?' I responded, 'That's how I feel and it's honest frustration. That's what is coming out.'"
MAGG DYLAN is a really heartfelt and down-to-earth band based out of Virginia Beach. All of their songs come from actual life experiences, feelings, emotions, and things they have gone through. Suzanne De Iulio, is the front-woman, vocalist, and co-founder of MAGG DYLAN. From their collective mortal journey comes the lyrics and emotion behind each of these songs. Brucifer Jordan, guitars/programming and co-founder of MAGG DYLAN, entices with his 7-string crunch. You can hear within the soulful melodies, harmonics, and backing vocals that their songs come from the minds of insanely great writers. 
Les Moseley, the bass guitarist, adds four and five-string tones that absolutely mesh well with their writing style, and has been what they needed since the start. Les also does backing vocals and harmonies with Brucifer. The drummer, Adam Hoye, joined MAGG DYLAN from California, with his hard rock/metal expertise. Together they became a full circle. Their collective goal is this, moving energy. MAGG DYLAN drives their intense performances with energy in the recording studio and on stage, all for their fans.