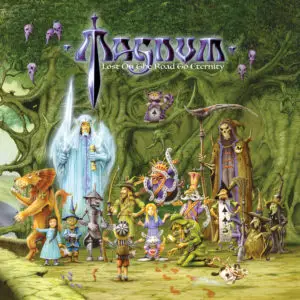 Ah, the grandeur of old school Metal acts! Magnum are not really what we would call a big band, though they had their moments in the 1980s. They even hit the British charts several times, but they did not resist the member changes and split up in 1995. Though times they change, my friends and Magnum returned in 2001 being active since then.
I met Magnum only in 2007 or 2008, when I was affected by the eMule fever and downloaded some albums. I was caught by the granditude of Magnum. This "Lost On The Road To Eternity" is their twentieth album. It is not everyday that we see something like this. No, not really. And still in great shape. "Lost On The Road To Eternity" is full of memorable songs. Magnum really know how to make a memorable album with strong tracks. Chorus are not catchy, they are memorable which is something completely different. They are strong and strengthfull. Even the balad "Storm Baby" is powerful with grand guitar riffs. It is really difficult to point out only a song, but if I would, I'd say "Without Love," which has a pretty deceptive title. One may think it is a ballad, but wrong. It is a strong and grand hard rock. The 1970s taste is so present. Almost a Free song. Grand and memorable chorus. The perfect track for you and a babe.
I have been using the word grand and its derivates a lot to explain this "Lost On The Road To Eternity," but I could not think of a better word to explain Magnum and "Lost On The Road To Eternity." It is not only the guitar riffing, not only Bob Catley's marvelous voice, it is the resourceful songwriting, the correct and catchy drums, the pianos that make each song great. Some art rock moments, some great guitar solo timing as in "Welcome To The Cosmic Cabaret" with an eletrict piano that is pure 1970's Jeff Beck. Not to mention the leading keyboards in the title track. Magnum have been a band of great songs since always. "Lost On The Road To Eternity" is an effort that shows how Magnum were able to resist through time hard rocking with some moments of AOR. Amazing!
"Lost On The Road To Eternity" is an effort for everybody who apreciates good music despite the genre.
Track Listing (digital version):
Peaches and Cream
Show Me Your Hands
Storm Baby
Welcome to the Cosmic Cabaret
Lost on the Road to Eternity
Without Love
Tell Me What You've Got to Say
Ya Wanna Be Someone
Forbidden Masquerade
Glory to Ashes
King of the World
Magnum "Lost On The Road To Eternity" will gain the road to eternity on January 19th via Steamhammer / SPV Records.
Watch "Without Love" lyric video here: