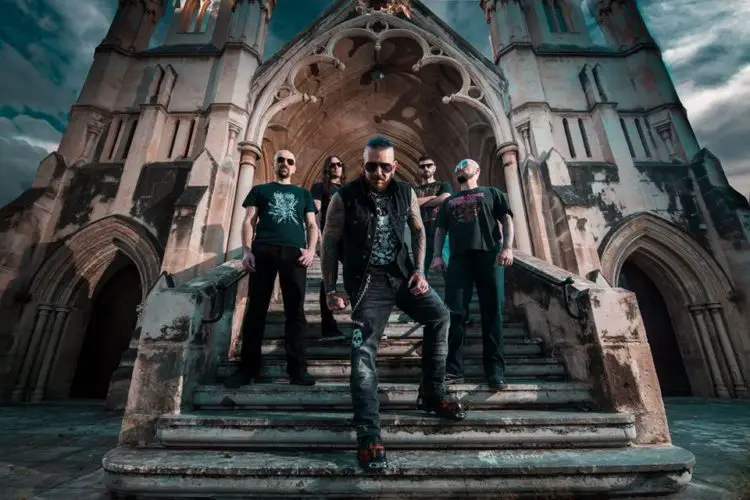 The writing for BEHEADED's new album, successor to 2017's "Beast Incarnate", is close to completion and the band will be entering Mk2 Recording Studio in December. At a later stage, mixing and mastering of the album will be handled once again by the capable hands of Ronnie Björnström at Enhanced Audio Productions. This will be BEHEADED's debut first release on Agonia Records and is scheduled for a worldwide release mid 2019, followed by an extensive European tour (including a number of major festivals), which is currently being booked by the band's management, The Flaming Arts Agency.
The band's vocalist, Frank Calleja, says: "We have recorded demos for 8/9 songs which we have shortlisted for this album, which stylistically will follow in the footsteps of Beast Incarnate. We have had no line-up changes since 2015; that means we were able to allow ourselves to focus more on the song writing as a unit, bringing in a stronger contribution from the newer members".
The new album's title is already decided upon and will be announced at a later stage whilst the artwork will be taken care of for the first time by Daemorph Art. The new band photo was taken by d.catania Photography.
BEHEADED, Malta's biggest metal export, rolled into life in 1991. Drawing inspiration from death metal hailing from Europe and the US at that time, and diving head on in the tape trading, zine and snail mail networks, BEHEADED furnaced its demo "Souldead"in 1995. With its strong statement and character, both European and worldwide record deals preceded the final cementation of the band as a placeholder in the extreme music scene. With six official releases under its belt, respect was gained through the energetic live set tying its relentlessness to its pure death metal inner sanctum. Several tours and festivals in Europe, US and Asia have channelled this thick skinned aural punishment to crowds all over, bringing more and more devoted followers. Years ahead have taken the tinge of freshened vigour and BEHEADED is ready to deliver death metal of the highest caliber.
Line-up:
Frank Calleja – voice
David Cachia – bass
Grech Omar – guitars
Simone Brigo – guitars
Davide Billia – drums