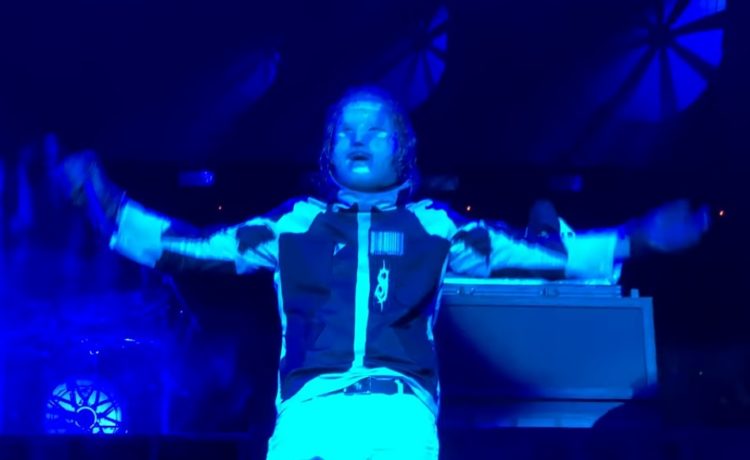 A 62-year-old man died after falling to the ground during this past Sunday's (August 11) "Knotfest Roadshow" concert at Hollywood Casino Amphitheatre in Tinley Park, Illinois, Patch.com reports.
Richard Valadez, 62, was pronounced dead on Sunday at 11:34 pm after being taken to a hospital from the Hollywood Casino Amphitheatre in Tinley Park. The cause of his death is not yet known.
Witnesses told Patch.com that Valadez joined in some of the mosh pits that formed in the lawn section and was knocked to the ground at least once.
About an hour into headliner SLIPKNOT's set, he fell out of the pit and into the grass. As people were trying to help him up, he suffered a seizure and witnesses called for help. Two men performed CPR on him before staff and emergency personnel showed up to assist Valadez.
"They definitely should have handled things better: More emergency presence for one. And a better way for people to alert that they need help," one witness said about the amphitheater staff's response to the incident.
"Overall, the whole venue just screwed the pooch on the entire thing," another witness said. "No communication, no preparation, nothing."
SLIPKNOT are currently touring throughout the U.S. with special guests VOLBEAT, GOJIRA and BEHEMOTH on all dates. You can get the tickets here.
SLIPKNOT will release their sixth studio album, We Are Not Your Kind, on August 9 via Roadrunner Records. Album was once again recorded at a Los Angeles studio with producer Greg Fidelman, who engineered and mixed SLIPKNOT's 2004 album "Vol. 3: (The Subliminal Verses)" and helmed 2014's ".5: The Gray Chapter."
In March, SLIPKNOT announced the departure with the percussionist Chris Fehn after he filed a lawsuit against his band members over unpaid loyalties.
In his lawsuit, Fehn claims to have always been told that the money from merchandise and touring is funneled through one sole company that splits profits and pays the members of the band. However, Fehn claims he recently discovered that his bandmates have set up several other SLIPKNOT-affiliated business entities in different states that appear to be collecting money from the band.
SLIPKNOT have refused to reveal the identity of the new member, who is replacing Fehn, but some fans on Slipknot Reddit had speculated that Zach Hill is the new percussionist, and said they saw him at Jimmy Kimmel Live.