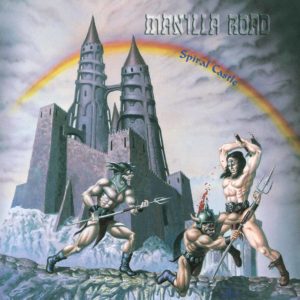 Here we've got another re-release of a classic album. This time is the time for Manilla Road 2001's "Spiral Castle." The fan who is into Manilla Road knows that the band is those one of a kind or one in a million. Their music is really something unique and it's possible to say that they have ahieve the honor of being the pioneers of a style of Metal Music. Well, as a matter of fact, depending on who you ask the answer may be two styles: Epic Heavy Metal or Doom Metal.
My story with Manilla Road is pretty recent. No, "Spiral Castle" isn't the first album I've ran into. I heard others before I guess in 2010 or 2011 and I couldn't help it to compare them with a band that I love: Cirith Ungol. Both bands are especulated as pioneers of both styles. Both bands have vocalists with voices, let's say, uh, unique. Their tones of voice are very peculiar not to say uncanny. Of course, this is what gives the bands their uniqueness. Not only vocals, but instrumentals are pretty peculiar as well. Both bass players are prominent and their lines are pretty interesting and sometimes out of the box using effects, a thing that few bassists do. To be honest, both bands explore their basses in a way other bands don't. They push them harder and give them more space creating long passages with only the basses. In both those passages are to increase the gloomy and epic grips of the songs. The guitars. Ah, the guitars. They are also unique in tone, playing, riffing and soloing. Both guitarists have a flair for Classical Music and this is impressed to their performing. As though they're not real virtousi, they love long solos. I tried to avoid the word virtuoso because I don't if it fits well to them. I'm not sure how can I explain this, but they are average players who have a very peculiar, and personal, style. The kinds that can play the same notes for a long time and, even though, please. I can't finish this part without saying a word about the fantastic and fantasy thematic both bands including their albums covers.
If I had to pick only one track of "Spiral Castle" I'd choose "Sands of Time" with its mix of oriental efforts with violins. Pretty peculiar to me. Opening and title track "Spiral Castle" is also a great one which shows all the band in perspective. To be honest, "Spiral Castle" doesn't have many doomy features. It's much more Epic even though tracks as "Shadow" could be labelled as Doom. However, the guitars are too loud and the drumming is pretty tight to be doomy. It sounds much more grungy than doomy, if you ask me.
"Spiral Castle," an album to have in your collection.
Manilla Road "Spiral Castle" was released on March 26th via High Roller Records.
Track Listing:
Gateway to the Sphere
Spiral Castle
Shadow
Seven Trumpets
Throne of Lies (Bonustrack)
Merchants of Death
Born upon the Soul
Sands of Time
Watch "Seven Trumpets" official video here: