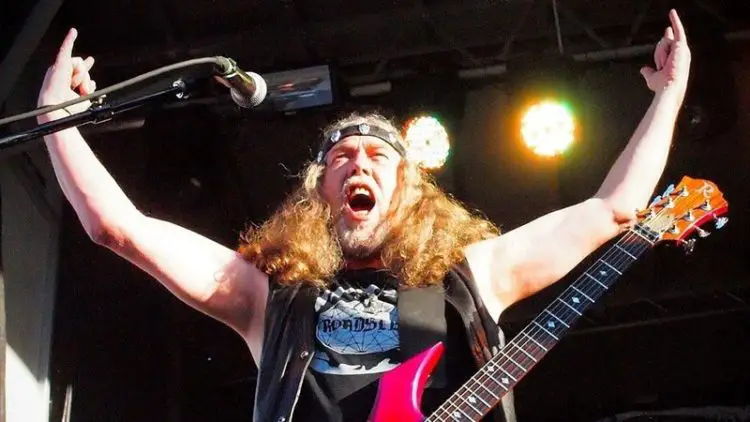 Mark "The Shark" Shelton, a founding member of the legendary epic metal band MANILLA ROAD, has died at the age of 60. He passed away Friday morning after performing at the Headbangers Open Air festival in Brande-Hörnerkirchen, Germany. The band confirmed in a live Facebook video that Shelton died of a heart attack.
"Last night I was able to hold Mark in my arms until the paramedics got there," vocalist Bryan Patrick says. "I comforted him. He felt no pain, folks. He went quick. He suffered a heart attack. The stage was very hot last night — a lot of smoke. I was even struggling for a moment. And there were a couple of moments where I checked on him to make sure he was okay, and he gave me the nod. 'Keep poundin', brother.' He went out on top."
Shelton started MANILLA ROAD in 1977 in Wichita, Kan., at first pumping out Rush-inspired hard rock with some Hawkwind-ian cosmic sprawl. But over the course of three albums — Crystal Logic, Open the Gates and The Deluge — released between 1983 and 1986, MANILLA ROAD galloped across its own bifrost in a spectacular mix of doom riffs, Iron Maiden-inspired speed, reckless thrash and proggy twists and turns. This is where MANILLA ROAD developed a sound in and outside the confines of what's called traditional or power metal, circumnavigating convention to evolve what fans call epic heavy metal — typified by journeys through long and winding tracks that lived up to Shelton's deep lyrical investment in fantasy and history themes.