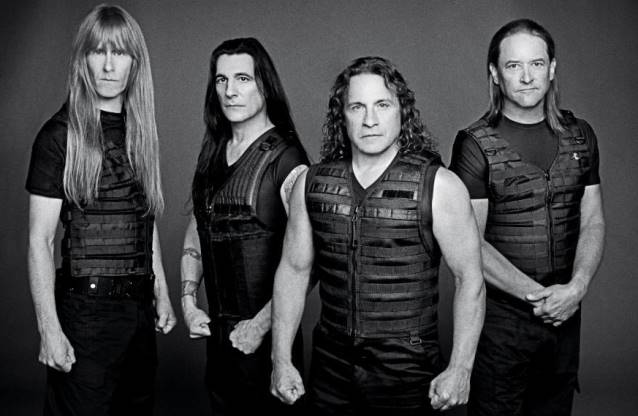 Heavy Metal icons MANOWAR have announced their final tour with a personal message to the fans earlier this week. First dates are confirmed for Germany.
For almost four decades, MANOWAR have forged their own style with immortal hymns, powerful imagery and unyielding values such as honor, loyalty and friendship, forming a unique and unbreakable bond with their worldwide legion of followers.
Envied by many for their unfaltering conviction, boundless dedication to their fans and their 'no compromise, no regrets' attitude, MANOWAR have never strayed from their path.
Throughout their career, MANOWAR have earned numerous gold and platinum awards and completed more than 35 tours, headlining venues ranging between 10,000 and 50,000 sold-out seats.
Daring and adventurous from their acclaimed debut album "Battle Hymns", always going above and beyond what others have done, they have set their own standards. Among the many tributes to their fans, MANOWAR established their own music festival (with fans from over 40 countries attending), played the loudest and longest concerts, recorded a song in over 18 languages and signed a contract in blood to establish their loyalty to Metal.
"The Gods And Kings Tour was a groundbreaking moment in our career: The stage, sound, video and you, our fans, were magnificent!" said MANOWAR. "Coming off such an amazing tour it was clear that the next time we must go even bigger and beyond anything we have ever done; something that will fulfill every Manowarrior's dreams. Then that will be the ultimate moment to say thank you and farewell!"
Over two hours long, blistering with the greatest hits from almost four decades of MANOWAR history, The Final Battle World Tour will be a once-in-a-lifetime experience for any true Metal fan.
"We will march to the Final Battle as we have done throughout our entire career: Giving EVERYTHING for our fans! The victory is ours but the glory belongs to our legion of Fans!" said Joey DeMaio.
The Final Battle World Tour 2017 – First Confirmed Tour Dates:
Fri, Nov 24, 2017 – Zenith – Munich, Germany
Mon, Nov 27, 2017 – Messehalle – Erfurt, Germany
Tue, Nov 28, 2017 – Tempodrom – Berlin, Germany
Fri, Dec 1, 2017 – Grugahalle – Essen, Germany
Sun, Dec 3, 2017 – Sparkassen Arena – Kiel, Germany
Tue, Dec 5, 2017 – Palladium – Cologne, Germany
Fri, Dec 8, 2017 – Jahrhunderthalle – Frankfurt/Main, Germany
Tue, Dec 12, 2017 – Arena Trier – Trier, Germany
Fri, Dec 15, 2017 – Porsche Arena – Stuttgart, Germany
General Admission tickets are exclusively available at www.lb-events.de starting May 27, 2016 at 3PM CET.
A strictly limited amount of printed souvenir tickets will be available on a 'first come – first serve' basis.
Ultimate Fan Package Upgrades that will provide a more in-depth live experience will go on sale at a later point.
Ultimate Fan Package Upgrades are only valid in connection with a General Admission ticket. Fans should secure their General Admission tickets immediately.
For ticket info and constant updates follow MANOWAR on www.manowar.com.