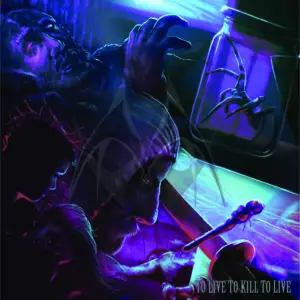 One of the things that impresses me the most in Metal music is the ability bands have to sound completely different from each other even being from the same style. One Old School Metal band never sounds the same as other Old School Metal band even though they use the same notes and chords and limited features. "To Live To Kill To Live" is an album that the fan can't say it's more of the same. Its twelve tracks are very diverse with different paces and tempos and moods and atmospheres. A lot of variation into Power Metal – between you and me, this is very welcome because Power Metal isn't exactly the variation driven style into Metal music.
The fan is hit hard right at the beginning with the fourteen minute long "Katana – The Moths and The Dragonflies-Katana – Mud" that hits damn hard and with lots of power. The song has lots of moods and twists as all epic driven songs do. At first, vocalist Lars F. Larsen's voice reminds a lot Twisted Sisters' Dee Snider. Then, with the going of the album the fan might find it more similar to Blind Guardian's Hansi Kürsch which I guess fits better to the band. Not that I don't like Dee Snider's voice, but Manticora's music is way near Blind Guardian's than Twisted Sisters' – I guess you all agree with my point. By the way, as we are talking about this listen the twelfth minute and tell me it doesn't recall Dee Snider. Following track "To Nanjing" takes it a bit slow and gently. It's the track that marks the twists of the album and the most interesting about it, if you ask me. The track works as a bridge to the might "The Farmer's Tale, Pt. 3 – Eaten by The Beasts" a track that is the epic of the epic. The fourth track "Slaughter in The Desert Room" has a mood that flerts with Modern Metal, but the band doesn't go that far, but the impression keeps.
All right then, "To Live To Kill To Live" is an album that will please the fan as it pleased me a lot. It's for the ones – like me – that feel that Power Metal is more of the same… I guess you'll understand what I said.
Manticora "To Live To Kill To Live" was released on August 28th via ViciSolum Records.
Track Listing:
Katana – The Moths and The Dragonflies-Katana – Mud
To Nanjing
The Farmer's Tale, Pt. 3 – Eaten by The Beasts
Slaughter in The Desert Room
Through the Eyes of The Killer – Filing Teeth
Katana – Death of The Meaning of Life
Tasered-Ice Cage
Goodbye Tina
Tasered-Removal
Stalin Strikes (instrumental)
Katana – Beheaded
Watch "Katana – The Moths and The Dragonflies-Katana – Mud" official video here:
953