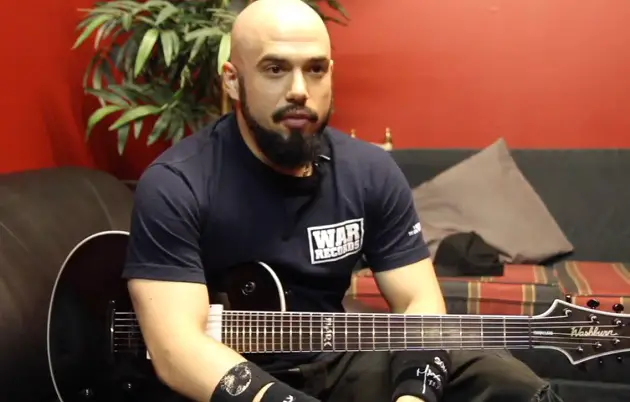 Yesterday, SOULFY announced that FEAR FACTORY guitarist Dino Cazares will be joining them on guitar for band's upcoming tour without any words of what happened to their longtime guitarist Marc Rizzo.
Well, evidence continues to suggest that guitarist Rizzo has departed SOULFLY after nearly twenty years with the band.
Rizzo has now launched HAIL THE HORNS, a new project alongside bassist Tony Campos (STATIC-X, FEAR FACTORY, SOULFLY) and drummer Christian "Opus" Lawrence (DEAD BY WEDNESDAY, ELLEFSON). The trio has recorded a cover of the KISS classic "God Of Thunder", with Campos handling lead vocals. The track was recorded by Joey Concepcion and Nicky Bellmore (Dexters Lab Studio) and mixed by Matthew Nevitt (Inkei Studios). A lyric video for the track is available below.
Rizzo commented: "I'm super excited to move foward with my solo project, HAIL THE HORNS, and REVENGE BEAST!!! These last few years have been too much of a stress on my life and being home this past year focusing on my projects has been super healthy for me. Much love to all the fans and I can't wait to hang with you guys after my shows and talk more in person!"
HAIL THE HORNS has announced Midwest tour dates for November 2021:
Nov. 18 – Lombard, IL – Brauerhouse
Nov. 19 – Fort Wayne, IN – Piere's
Nov. 20 – Des Moines, IA – Venue TBA
Nov. 21 – Braidwood, IL – Top Fuel Saloon