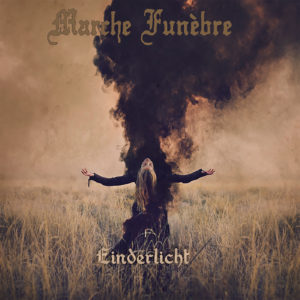 You think that the life of a reviewer is easy, isn't it? It's only listen to good music, get free MP3 downloads of top notch Metal releases, yeah? Take a couple of minutes to write anything that comes to mind?
Nah, you're flat wrong my child of the night.
When I saw the e-mail about Marche Funèbre "Einderlicht" I thought I knew the band and in my mind I was already writing the story of what I new about the band and its thematic which I presumed it was pretty appealing to my ears and to my fans. But, haha, a quick look into the press release and some pics all went down. All the certainty I had about the band had vanished away and gone. I confused bands… I though it was another band…
Ok, then. So, let's rush and listen to the album and make up my mind again.
For the sake of this reviewer, the music Marche Funèbre show in "Einderlicht" has many resemblances with the band I confused them with – I'm keeping the name of the band because I can"t remember it. I mean, the sonic spirit is pretty similar. "Einderlicht" is dark and gloom with sopme melodies that go to the melancholy bordering the frontiers of Black Metal. But the thing that first calls the eye listening to opening track "Scarred" is the vocal duet that bouncves from the clean and melodic one to the eeirie and shrieking vocalizers. The way Marche Funèbre deal with them is pretty amazing by the contrasts they bring and the dense textures they apply to the songs. Instrumentwise, "Einderlicht" borders the raw with some polishing, I guess that is the right way of describing it. The music here is musically raw, but the band manages to polish it in order to have it sounding more technical. Most songs are chordly riffed with a guitar that play the uses the melody in a simple manner to give the constrast and effect the band desires. So, the performance seems to be boosted to follow the dense and complex singing as in "When All Is Said" that is hugely melancholic. Well, Doom Metal tends to be not as technical as other Extreme Metal styles. But, please, I'm not saying that the album is poorly played, please. It's only a way of Marche Funèbre to express themselves.
"Einderlicht" presents Metal rebellion in the form of sadness and grief, not anymore anger and wraith, though there are some touches of them here. Things change, but don't change at all. Metal is still full of nonconformity with the things oin this sad and lonely and pathetic little planet. That's the tale Marche Funèbre tell here.
"Einderlicht" Marche Funèbre was released on September 25th via Hypnotic Dirge Records.
Track Listing:
Scarred

The Eye of the End

When All is Said

The Maelstrom Mute

Deformed

Einderlicht
Watch "When All Is Said" official music video:
970