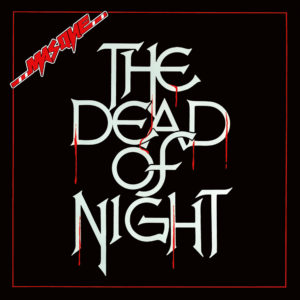 Time goes by very quick. It's impressive how's the feeling of time passing by, my child of the night. You won't remember, but this sack of old potatoes here told you once that he had a musical memory. I mean, there are some songs, and bands, that made me remember a part of my life. There are also some epochs of the year that remind me the music I used to listen. This is so maybe because that's the time of the year we receive presents and I used to ask records. So as I've been such a good boy this year, and Christmas is approaching, I'll ask Santa to give a time machine. Ah, no, wait. There isn't such thing. Isn't there? Not so sure, but Masque "The Dead of Night" worked as a time machine. I swear, listening to "The Dead of Night" I came back to my good old days of youth when I was discovering Metal.
"The Dead of Night" is an album with a strong personality. It's so hard to believe that Masque and"The Dead of Night" are having the recognition they deserve almost thirty years after its release. Life's unfair, I know that very well, my child of the night, and you must go learning it. Opening track "Confined Sanity" is a killer. It shows a band that goes very near the borders of speed metal, but just near. A great highlight to bassist Pete Janko whose performance in "The Dead of Night" is just great. The man holds his axe with lots of personality. In some tracks he shades the guitars. Do you how hard it is to do so? But the cherry of the cake is Amy Casson's vocals. Have I told you how I love female voices? I guess I haven't.
"The Dead of Night" is a dear album for me. It made me remember some of the good old days, but most of all, it made me remember a great band that unfortunately sabotaged their own path: Viper. I got their first album "Soldiers of Sunrise" in Christmas. Anyway, Masque did a great job in "The Dead of Night." Life's really unfair. But No Remorse Records and producer Bart Gabriel corrected it. Praise Masque and them. Play "The Dead of Night" very loud if your neighbor calls.
Masque "The Dead of Night" will be reissued on January 18th via No Remorse Records.
Track Listing:
Twisted Tales
Confined Sanity
Back with a Vengeance
The Dead of the Night
No Light to Die by
Confined Sanity (demo)
Watch the Children Pray (demo)
No Light to Die by (demo)
The Tell Tale Heart (demo)
Running Wild (demo)
Dream Stalker (demo)
Watch "The Dead of the Night" video here: