In the early '80's, heavy metal music was experiencing growing pains as its more extreme sub-genres – death metal and black metal – were beginning to stir in the dark underground. Along with Slayer and Mercyful Fate, Switzerland's Hellhammer was one of the more vehement forces to spearhead this new movement. Formed by Tom Gabriel Fischer as a vehicle to both pay homage to his heroes in the New Wave of British Heavy Metal and to vent his personal frustrations around his troubled youth and suffocating surroundings, Hellhammer would only survive long enough to record two demos and one E.P. – and never play a single gig – but it left its mark upon nearly every extreme band to follow in its wake.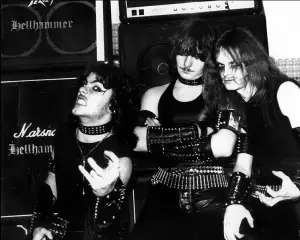 In 1982, Switzerland had practically no metal scene to speak of. While Fischer (who adopted the performing name Tom Warrior) and band mates Steve Warrior (bass/ vocals) and Bruce Day (drums) struggled to become more proficient on their instruments, they faced the ridicule of local bands and pressure at home (from disapproving parents) and at their places of apprenticeship to abort their mission and do something sensible with their lives. Inspired by then newly-emerging Venom, Fischer's vision for his band was extreme and uncompromising. His early compositions for Hellhammer were simple and brutal, drenched in fury and misanthropy.
Thirteen of these songs emerged on the band's first demo, Triumph of Death, in 1983. The demo was promoted by a fictitious label concocted by the band, Prowlin' Death Records, through which they mailed handmade newsletters – which contained band news as well as black-and-white photos of members posing with weapons and corpse paint – to metal fans around the world. But the "knowledgeable" music press almost universally despised the demo at the time.
Shortly after Triumph of Death, Steve Warrior parted ways with the band and was eventually replaced by Martin Eric Ain. Ain and Fischer developed both a personal and a working friendship. Their long discussions about religion, history, fantasy and occult themes had a great impact upon Hellhammer's lyrics, and broadened their scope. Martin Ain helped with the creation of Hellhammer's second demo, Satanic Rites, though Fischer actually played the bass parts in the studio.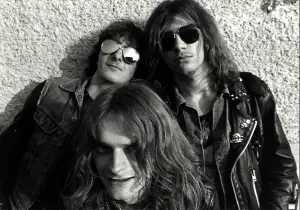 The Satanic Rites demo won Hellhammer a recording contract with upstart label Noise Records. This led to the recording of first E.P., Apocalyptic Raids. But critical backlash, as well as an adolescent vision that had first invigorated the band but later become stifling, had taken its toll. Fischer and Ain decided that they wanted to start over on a clean slate. On June 1, 1984, they officially dissolved Hellhammer and formed, from its ashes, the seminal metal force that was Celtic Frost.