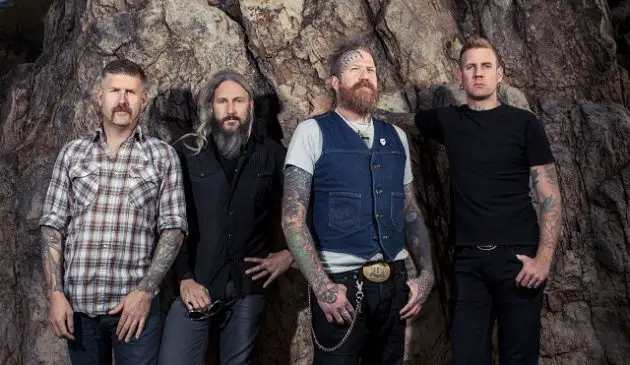 In an interview with Noisey, MASTODON bassist/vocalist Troy Sanders and guitarist Bill Kelliher that the band doesn't let online trolls and haters  get to them with criticism about their sound or the way it's changed.
Kelliher said, "We never signed a contract that said we were going to be a heavy metal band, or a death metal band, or a crust punk band, for the rest of our lives. Our fucking fans are nuts. They pick apart every fucking note, every fucking word, who's singing what, why this song doesn't sound like the last song, why this song sucks because it's different."
He continued: "I'm always trying to come up with riffs and ideas and songs to impress Troy, Brent, or Brann. I'm not trying to do to it to impress Joe Blow on Facebook. I don't give a shit. That's what keeps us going. It's funny when I read these comments on the internet of people saying we sold out by playing songs like "Show Yourself." Who the fuck are you? What do you mean we sold out? I'll play whatever music I want to play! I'll put out a goddamn pop record if I want to. I don't have to answer to anybody but my bandmates… and my wife."
Sanders added: "It keeps us motivated to go into the practice room and see what happens that day. If we've worked on one of Bill's riffs and maybe one phrase of vocals in that one day of practice and we're all digging it, then cool! That's what's in our control. What's in our control is the sounds, the notes, the lyrical subject matter, and what cool design we're going to put on the next T-shirt.
"Once the record is birthed into the world, it's going to touch people in a great way. It's also going to anger people. It doesn't matter to us. We've already hugged and high-fived about how proud we are of this new record. Once it becomes out of our control, then that's a whole other realm."
Read entire interview over at Noisey.