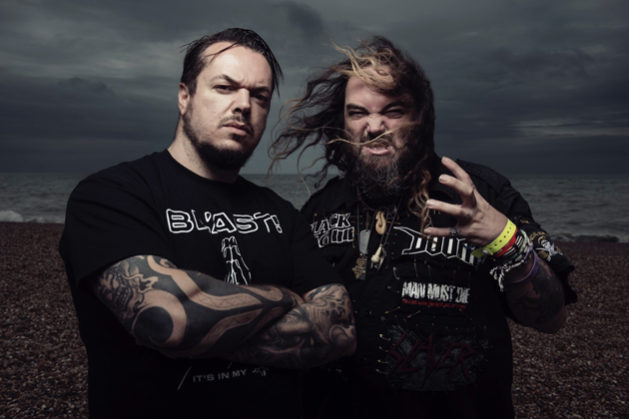 In a recent chat with That Metal Interview, Max Cavalera revealed his plans for CAVALERA CONSPIRACY, the band he formed nearly a decade and a half ago with his brother and fellow founding SEPULTURA member Igor Cavalera. "We are just paying tribute to our old records," Max replied (hear audio below). "We played [SEPULTURA's] Roots for a while, and last year, we did a lot of 'Beneath The Remains' and Arise together, and that was great. People love it, fans love it, especially in Europe and South America.
He continued: "Some of the South American shows are on YouTube; you can see Mexico and Chile, and the crowd is singing every song. Those records are so iconic; they're masterpieces of that era. So we're gonna do more of that. We're gonna bring it to America, probably in the summer, with probably another cool band, have a cool package. So that's pretty much what I'm doing with Igor right now — just paying tribute to our old stuff."
The brothers Max and Iggor Cavalera formed the legendarily trailblazing heavy metal band SEPULTURA as teenagers together in 1983. Across six studio albums the Brazilian punishers perfected the art of darkness and extreme music with thrash classics such as Beneath the Remains, Arise and Chaos AD, while exploring the underbelly of third world political issues and broadening the genre's horizons with an exploration of indigenous culture, culminating with the landmark Roots album in 1996.
A decade after Max left SEPULTURA and meanwhile released seven successfull records with SOULFLY, the two brothers got back together and teamed up with guitarist Marc Rizzo in 2006 to form CAVALERA CONSPIRACY: A bold testament to the talent and power this band possess together. An invigorating mixture of speed and aggression, finest thrash power and the fiercest riffage!