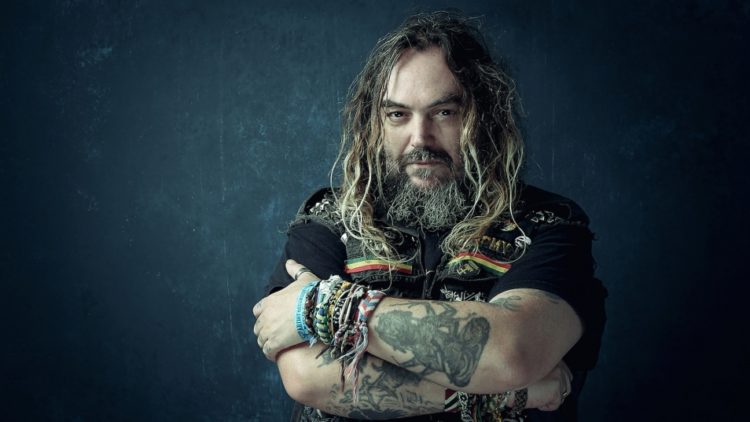 In a recently published feature over at Metal Hammer, SOULFLY frontman Max Cavalera compiled a list of songs he was involved in that shaped his life. Among them was his guest appearance on the DEFTONES' "Headup" from their second album, Around The Fur.
Cavalera said: "Dana [Wells, Max's stepson] came home with a DEFTONES cassette with the song 'Bored' on it one time, and he played it to me and I loved it from the first time I heard it: 'Man, this is f*cking great!' So when we recorded [SEPULTURA's] Roots, I listened to [DEFTONES' debut album Adrenaline] morning and night — I was obsessed with that record. They came to play in Phoenix, and I ended up learning 'Engine No. 9' and jamming onstage with them — there was only 30 people there, nobody knew who they were.
Dana was one of their best friends, and when he died, Chino [Moreno, DEFTONES frontman] came to the funeral — he was one of the pallbearers," Max continued. "So when I got a phone call from them saying they were going in the studio and they wanted to do a song with me about Dana, I loved the idea.
It was the first thing I recorded after the break-up with SEPULTURA, before even SOULFLY, so I went deep into the riff box and get one of the best riffs I could find — it was a real f*cking jammer. I went to Seattle, where they were recording, and played it for them, and they were, like, 'F*cking love the riff, man, this is killer.'
I remember recording it, and I was singing with Chino, and he hit his knee on his nose, he got a bloody nose right in the middle of the studio. There was blood everywhere — it was fantastic, like a live show. [Producer] Terry Date was going, 'Keep rolling!' and taking pictures of it.
I love the fact that they put a picture of Dana in the record [Around The Fur], and Zyon too. And I love the fact that they still include 'Headup' in their set. I always jam with them if I'm around. I even saw a video of MUSE playing it. That blew my mind: that's how far that riff has gone."
Cavalera's GO AHEAD AND DIE will released their debut self-titled album on June 11 via Nuclear Blast. You can pre order album via Amazon here.