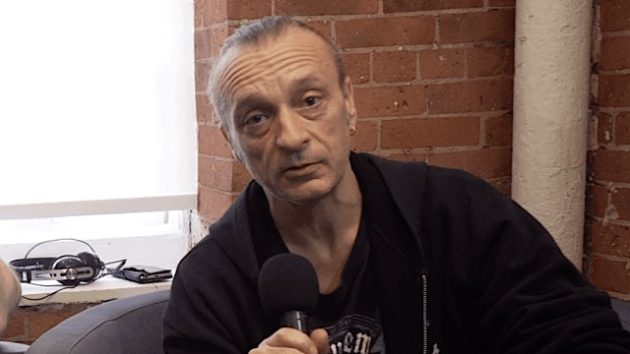 During a recent interview with Heavy New York, MAYHEM bassist Jørn "Necrobutcher" Stubberud was asked if his stage name is an extension of who he really is, to which he replied (as transcribed by Ultimate-Guitar.com):
"No, I'm the same guy always, the name Necrobutcher has nothing to do with being a necrophiliac or something like that.
"The name spawned when I was around 16 years old," he explained. "All of my favorite bands, like, HELLHAMMER, VENOM, they all had cool nicknames. So we basically stole the nicknames out of CELTIC FROST and HELLHAMMER.
"Hellhammer HELLHAMMER; Maniac is [HELLHAMMER song] 'Maniac'; Necrobutcher is Slayed Necros… That was just some names we picked out for ourselves. Somebody told me, 'You can't put these two names together because it's wrong, grammatically. Necro-butcher.' And I'm thinking, 'This is perfect!' Because it tells people that this guy must be f*cking insane to come up with this name that's not even grammatically right or correct. I was thinking to myself, 'That's perfect. I'll keep that. Let's keep that.'
He added: "Now it's been with me for 35 years. I walk down the street, somebody says, 'Necro!' – I don't react anymore, it's a nickname. I don't think people really think, 'Oh, he must be a necrophiliac.' I don't get that feeling. Nobody has talked to me about that.
"It's the same – to put in comparison to THE ROLLING STONES – when you break it down, okay, it's built that on, 'Momma was a rolling stone.' It was a Bob Dylan track… No, it was Bo Diddley… Some old guy had a track, then THE ROLLING STONES picked it up and named their and after that.
"When you break it down and think about THE ROLLING STONES, that's a f*cking stupid name. That's a retarded name. Today, nobody thinks about it. Everybody calls them 'Stones.' It's like a pet name. The Stones."
True Norwegian Black Metal masters MAYHEM will release their highly anticipated sixth studio album Daemon on October 25th.