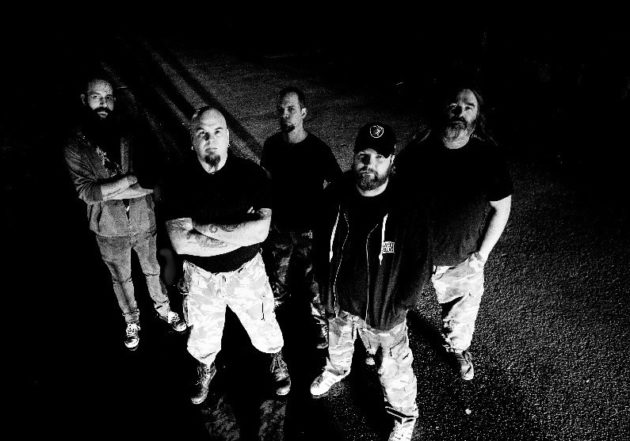 Wormholedeath Records are proud to announce that norwegian melodic and groovy death metal combo MECALIMB have signed a distribution deal with label for the worldwide release of their new album "XIII".
"XIII" will be released on November 17 digitally and December 8 on CD format.
"XIII"  track listing:
1.Headless Existence
2.Blind Men Rules The Earth
3.Forgotten
4.No End
5.Infection
6.Leave The Bones
7.Goodbye To Sanity
8.I See Dead People
9.Jokers & Liars
10.Nothing
MECALIMB was formed in 2005, when a group of friends in Fredrikstad, Norway, decided to start a metal band, in the vein of bands such as Pantera and In Flames, groove oriented metal with melodic elements. Ole Olsen (guitar) were the main songwriter at the time, and the only member left of the original lineup today. After some gigs in Oslo and demo recordings in 2006, the lineup changed when the bass player and drummer quit the band. During 2006-2007, Dag Kopperud (bass) and Marius Pettersen (drums) joined. Things started to escalate with the band, and in 2008, the first album was recorded, "Mechanical Recipe", followed by a video release of the song "Still Alive". MECALIMB got airtime on norwegian radio broadcast (P3) and played several gigs, up until 2010. At the start of 2010, the original vocalist, Raymond Gammelsrud, and second guitarist Torben Svendsen, quit the band. A new vocalist was hired in March 2010, Kenneth Liljegren.
After the summer of 2010, the band signed with Rising Records (London) to produce a second album, which came out in early 2011, "Bound To Fall". The band hired Robin Larsen as a second guitarist. In addition to more gigs in Norway, including support for Jorn (ex-Masterplan), the band got to play at Playa del Inglés, Gran Canaria, in late 2011, and also a support gig with Susperia. In 2012, Kenneth Liljegren left the band, and Mecalimb once again needed to change vocalist. In came Stephan Hay, and the band started to change into a more thrashy/melodic death metal influenced style.
After this, there were a long hiatus/writing phase up until December 2013, when local thrash legends, Witchhammer, did a split gig with MECALIMB in Sarpsborg. At the concert, because of health reasons, Tom Angel replaced Robin Larsen on lead guitar. Tom Angel then replaced Robin as a full-time member in early 2013. The band recorded "Chaos EP" in March 2013, released at Oak Metal Festival in August the same year, playing with bands such as Witchhammer and Circus Maximus. More gigs in Norway followed, until the start of 2015, when Stephan Hay left the band. After some months, Robert Arntsen from Gothenburg, Sweden, joined the band. A new writing process started, and during the summer, the band started recording the third album, "XIII", followed by several concerts with bands such as Tankard, Entrails, Enslaved, Triosphere, Mindtech etc. In the fall of 2016, black metal legends Ragnarok brought MECALIMB as support on their "Psychopathology" Europe tour, playing in Germany, The Netherlands, Belgium, France, Italy, and the Czech Republic. MECALIMB is currently in the writing process of a new album release.