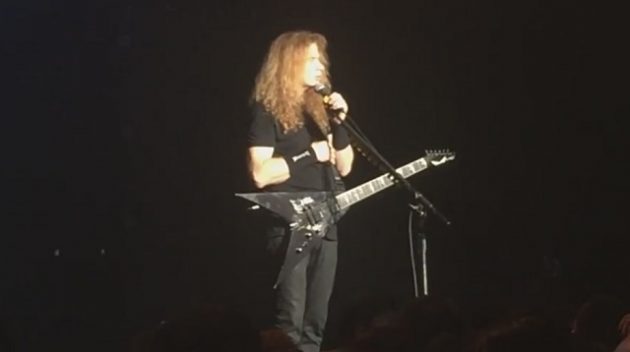 MEGADETH have paid a tribute to Chris Cornell during their May 18 concert in Tokyo, Japan.
SOUNDGARDEN And AUDIOSLAVE frontman Chris Cornell has died at age 52 last night, May 17, in Detroit, just hours after a SOUNDGARDEN show at the Fox Theatre.
MEGADETH mainman Dave Mustaine addressed Cornell's passing, telling the crowd (see video below): "Chris Cornell died today. Very sad. Very sad. Chris Cornell from SOUNDGARDEN — he died. Very sad. When I found out, I was so, so sad. Chris Cornell, a friend of mine, a friend of all of us from SOUNDGARDEN, died today and we have lost one of the most beautiful voices in rock and in history. And I don't even know what to say other than we're gonna dedicate this next song to you, our friends in Tokyo, 'cause we're here with you and we love you so much and we wanna celebrate Chris's life today.
"Now, I don't sing like Chris, I could never sing like Chris, but we're gonna sing a song right now. And if you know the words, sing with me. If you don't know the words, then just make noise. I love you, Chris. I'll see you one day up in heaven."