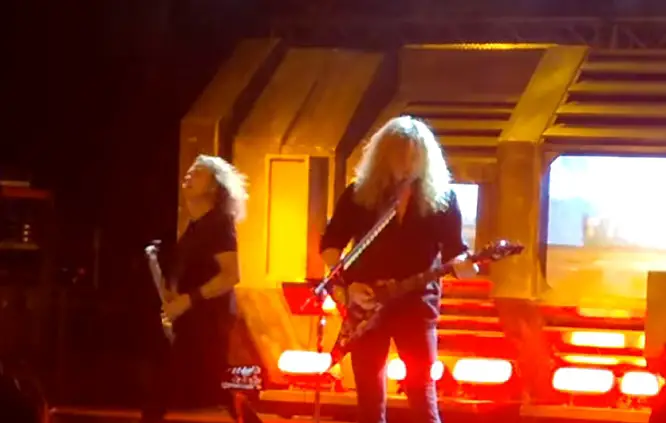 MEGADETH performed at Arenele Romane in Bucharest, Romania on July 13. Fan-filmed video footage can be seen below.
Featured songs:
00:00 Hangar 18
05:13 The Threat Is Real
09:34 Tornado Of Souls
15:11 Poisonous Shadows
20:50 She-Wolf
26:11 Wake Up Dead
29:53 In My Darkest Hour
35:20 Conquer Or Die
37:24 Fatal Illusion
41:45 Trust
47:00 Post American World
51:28 A Tout Le Monde
56:05 Dawn Patrol/Poison Was The Cure
01:01:52 Sweating Bullets
01:07:08 Dystopia
01:12:05 Symphony Of Destruction
01:16:05 Peace Sells
01:20:33 Holy Wars
MEGADETH's latest album, "Dystopia" opened with 48,000 copies, marking MEGADETH's highest-charting album since 1992's "Countdown To Extinction" debuted and peaked at No. 2 on the chart dated August 1 of that year. "Dystopia" also logs the group's best sales week since 2007, when "United Abominations" landed at No. 8 with first-week sales of 54,000.