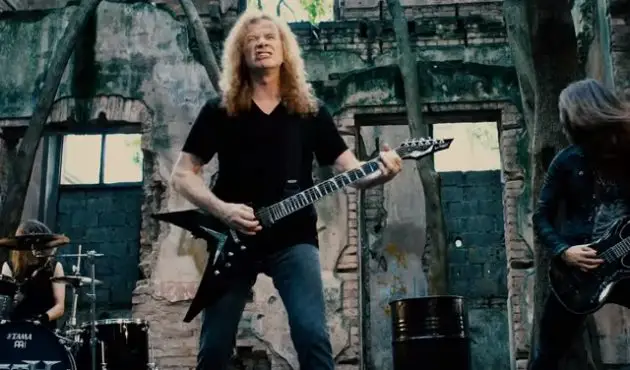 MEGADETH mainman Dave Mustaine was interviewed on the October 5-7 edition of Full Metal Jackie's nationally syndicated radio show.
On what MEGADETH has to take into consideration when planning its own festival event to coincide with the release of the band's next album, Mustaine said:
"Some of the things that we take into consideration when we do dates is, obviously, what's the next show? Where do you go from here? An another question is who are you playing with, and what is that show going to mean? If it's a festival, which is what the question was, the festivals sometimes have a life of their own and there's a… I don't know… a temperament is maybe the wrong word, but there's just a vibe, a feeling, something about a festival that, if it's a good one — like Hellfest in France — is remarkable. That festival [Hellfest] is bigger than any band that plays on it, and that's what anybody who's a festival promoter wants — to have a festival to be bigger than any band on it because then that means it'll go on forever.
"We have thought about, when we do festivals, how do you bring the audience in to have fun? Well, we don't really want anybody up onstage, but we would love to be able to have something backstage — you know, something where you can have people associate with the band, maybe play some songs, get some direct information from us, some feedback on their playing skills and stuff. And we thought what would be a great way to do that? Well, a cruise would be a great way. And we're doing [our] first-ever West Coast cruise on next year with Norwegian [Cruise Line]."
He also gave some info on upcoming Megacruise: "It's gonna start in Long Beach and we're gonna cruise out to Catalina and then go down to Mexico and turn around, head back up to San Diego. And I think we're gonna stop in San Diego. We may return up to Long Beach, but I think San Diego's gonna be where the cruise is gonna end for us. We've got a lot of really great bands that we've planned. One I'm super excited about is ARMORED SAINT. I've always been a fan of ARMORED SAINT. Of course, they're not headlining — there's several other bands that are above them on the bill — but they're there. And I like ARMORED SAINT a lot. I like the Sandoval brothers and love Joey[Vera]. So, I think it's gonna be fun. And that's what we wanted — we wanted something that people would stop thinking about, 'How do we have the most successful this?', and, 'How do we make the most money that?' Well, how about you treat the fans with dignity and respect and you give them their money's worth, you know?"
Speaking about MEGADETH's plans for the coming months and next year, Dave said:
"So, if I went chronologically down the list of everything that's going on right now… We're working on wrapping up the music [for the next MEGADETH album]. I'm working on a new band that [Mustaine's management company] Thrashville manages called DOWN TO RIDE. We're working on their music. And they're still trying to decide if that's the name they're gonna use or not. And we are working on the Megacruise. We're working on Kegadeth, which is a metal music and craft beer festival that we created based around the [MEGADETH-branded] À Tout Le Monde beer. Then next year we hope to have a record out. This October 27th, we'll be headlining Jakarta. We're taking the holidays off, and we'll be working on the new record. Next year, we start at around March. I'm gonna be doing a very special experience where I'm gonna be going out for a month and playing some concerts. So, after Kegadeth, we have something also next year. Of course, we have the experience starting in March, and then after that, we do a month worth of Kegadeth, and then we've got some dates in the summer. And then, in the fall again, we're gonna do a camping plan with the Kegadeth festival and more Kegadeth dates and then, obviously, a MEGADETH tour to support record number 16."
Listen to an entire interview below.